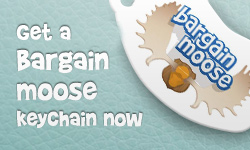 Hey Moosers! Just letting you all know that today we published our 10,000th post on Bargainmoose!! That's a nice round number and a good time to blog about it. From this site being a one-woman operation nearly 4 years ago, we now have a team of about 13 people working on the content for you guys, both writing on the blog or hunting coupons and deals on the forums.
Over the years, we've had a cartload of coupons, frequent freebies, a dumptruck of deals, a and a mountain of money-saving advice. Here's to the next ten thousand posts! Whoop!
To mark this auspicious event, I think I'll do a really quick giveaway. Leave a comment below about anything you like, and I will select 10 random Moosers to get a FREE Bargainmoose keychain (pictured above right). NO-ONE yet owns one of these keychains, so you will be one of the privileged few!
Canadian entrants only, closes 1st June 2012.
(Above contest now closed to new entries. Winners were Grayce, Danielle, joy, Jan, Lucie, Christina, Lorna, Robyn, Tenille, Theresa)