iTunes: Greatest Hits Sale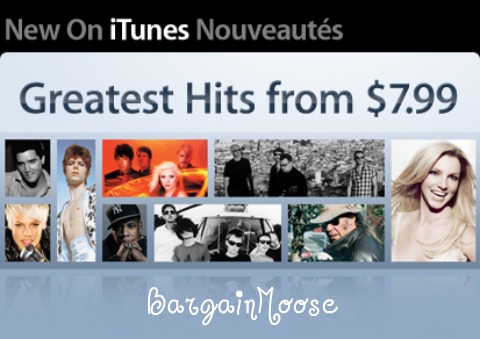 iTunes has chosen over 40 of the very best greatest hits albums and is offering them for a limited time only at either $7.92 or $7.99.  From big names (Michael Jackson, Queen, Jay-Z), to pop and rock (The Cars, Shania Twain, Aerosmith, Sum 41), and more (Keith Urban, Blondie, Depeche Mode), there is something for everyone's musical tastes!
If I had to pick one CD from iTunes list of Greatest Hits, it would be......Britney - The Singles Collection, for $7.99. Yes, it's true. I'm a Britney fan. I'm not saying this is the best greatest hits album out there, it's just my favourite. I find her music has the right tempo for working out! This CD is priced at $14.99 on Amazon Canada, so you're getting a good price at this iTunes sale.