Future Shop Canada: Bring in Any DVD for Recycling & Save up to $10 on Select Blu-rays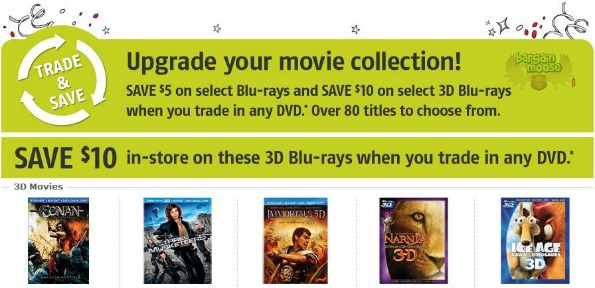 Just like Judi had written that Best Buy Canada has this recycling program, so does Future Shop Canada.  The program at Future Shop Canada however will offer you up to $10 per movie.
Basically, trade in any DVD and save $5 on select Blu-ray titles or save $10 on select 3D Blu-ray titles.  You can trade in up to 20 DVD movies per day per customer and you can redeem one coupon per select Blu-ray or 3D Blu-ray movie purchase. There is a maximum of two of the same title per day.  Multiple disc DVD box-sets will be credited as one disc regardless of the number of discs in the set.
This is an awesome way to clean out your old movies that you either don't watch or don't like and get new ones.  With over 80 titles to choose from, there really is something for everyone.
(Expiry: 16th August 2012)