Comixology: Joe Hill Sale!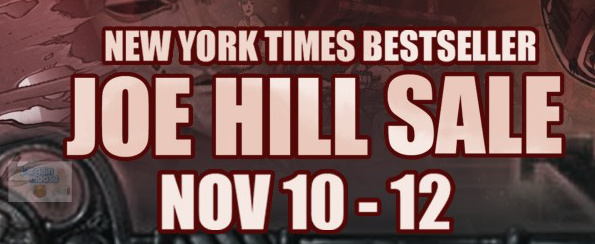 Who is Joe Hill and why is he being sold? Is he a modern day Joseph, being sold by his brothers?!
The answer to the above questions, in reverse order are "no" and "He is Stephen King's son and he isn't being sold, silly, just his comics." Silly moose.
Joe Hill has instant nepotism cred because his dad is Stephen-freaking-King, but besides that he is also the author of some great books and, more importantly as far as this sale goes, comics. Speaking of the sale, this is a typical Comixology sale that doesn't tell us how much we're saving. I'd assume we're getting 50% off but you never know.
You may have heard of Lock & Key, one of Joe Hill's most well known works, because it is being turned into a TV show. This is another one of those series that I have not checked out only because I have so many comics piled up that I have yet to read. Speaking of which, I'm gonna go read some comics. Bye!
(Expires: 12th November 2012, 11:59PM ET in North America, local evening times in other regions)