Back To The Future 30th Anniversary Trilogy Blu-ray + Digital HD, Bilingual $21.75 @ Amazon.ca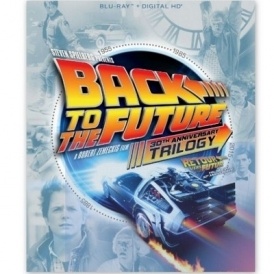 This Back To The Future Trilogy needs little to no explanation. Everyone knows how great the movies are.
I will explain though, that for $21.75 (down from $28.99) for one day only, you can view the entire trilogy in Blu-ray and via digital HD! The latter means you don't have to drag the discs out and get them scratched up. It also means you can easily watch on tablets and phones with various devices. My spouse had been gifted with a Batman set that had the online feature, and it is extremely handy. Now anytime you want to see Back To The Future, you can!
Michael J. Fox & Christopher Lloyd nailed it in every single Back To The Future, and made this series a household name for generations to come. Robert Zemeckis, the infamous director proves that his talent for directing is top notch, with this entire series.

Shipping at Amazon.ca is free and is fast (2 days) if you are a Prime member. If not, you will want to check it out here. Amazon Prime Day is this Tuesday, July 12th so you will want to become a member (free trial) for the huge event!
If you are not an Amazon Prime member, you can boost your order to over $25 to receive free shipping, otherwise, shipping will start at around $4.98. Definitely topping up your order to reach over $25 is a better value than paying for shipping, in this case.
So - which one was the best? The original Back To The Future, Back To The Future II, or Back To The Future III? Let us know in the comments!
(Deal expiry: July 9th)