Ardene Canada: 70% Off Superman, Batman, Frozen, Minions & More Pyjamas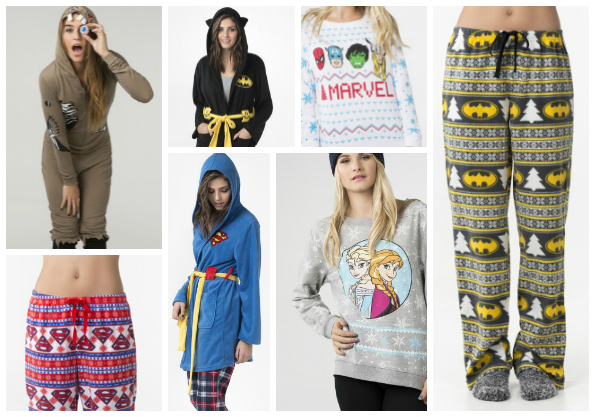 Have you ever wanted to be Superman? Batman? A zombie? Now you can with this extraordinary sale at Ardene Canada. Receive 70% off select onesies, pyjamas, superhero robes, sweaters, and more. The discount is taken off in your cart - add items to your cart for their final price!
Star Wars
In a galaxy far far away... these leggings were made for your wearing pleasure. The Blue Star Wars leggings are on sale from $19.50 down to $5.85 (in cart). With the release of the new movie, sizes are pretty limited for these.
Batman
Batman is one of the greatest superheroes ever. While he doesn't have any special powers (except being rich and brilliant), he is constantly savings Superman's butt. These Batman fleece PJ pants are totally adorable and on sale from $19.50 down to $5.85 after you add them to your cart. Combine the pants with a complimentary Batman Robe. This robe was $36.50 and is comes down to $10.95 in cart. The robe even has cute little bat ears on the hood!
Superman
You cannot count Superman out - he is the man of steel after all. He will always come through for you. The Superman robe is just the thing to keep a hardworking superhero warm and cosy. Originally $36.50, you pay just $10.95. You can also score the Blue fleece Superman hoodie on sale from $24.50 down to $7.35.

Now, you have two choices for complimentary bottoms. The Superman fleece PJ pants (white/red/blue) have the most sizes available. However, the Superman fleece PJ pants (blue/red/yellow) are a better match for the robe. Originally $19.50, pay just $5.85 for either pants.
Minions
If anyone is a fan of the greatest henchmen ever, then pick up the Minions fleece PJ pants decorated with your three favourite Minions. Originally $19.50, they come down to $5.85 in cart.
Frozen
I cannot figure out what is ugly about this sweater: it is really super cute. The Frozen ugly xmas sweater is on sale from $24.50 down to $7.35.
Zombies, Sock Monkeys, Marvel, Bugs Bunny, & More
There are so many awesome pyjama pieces in this sale that I want to share. With The Walking Dead so popular these days, I thought this Zombie onesie might be a big hit as well. Originally $39.50, pay just $11.85. You could even wear it as a Halloween costume next year. I have never understood the appeal of the sock monkey, but goodness knows that he has fans. This Sock monkey flannel PJ set is on sale from $31.50 down to $9.45.
I am not sure how many of you remember the Bugs Bunny & Tweety Show, but the reruns were a staple in my household. This Tweety PJ set celebrates one of the most adorable and annoying characters. At $36.50, the set comes down to $10.95. I also wanted to mention this Marvel ugly xmas sweater as not everyone is a DC fan. Pick it up for just $7.35.
Receive free shipping on $30 or more.
(Expiry: Unknown)