AMC Theatres: Free Pop & Popcorn With Bruno Movie! (Toronto)
This is a great blog post for you Bargainmoosers in Toronto! If you plan on seeing the new Bruno movie at AMC theatres, be sure to print out and take this free coupon with you.
As you can see from the coupon, you can get a free large popcorn and a large fountain drink with your cinema ticket!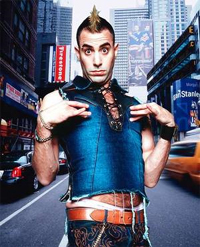 Oh I can't wait to see this show! I love Sacha Baron Cohen. Borat was a laugh a minute, and his Ali G show is hilarious. I cannot believe that he is able to portray so many different characters and make them all seem like such different people. He's a good actor!
I've seen the trailer for Bruno in the cinema. Sadly, it was one of those trailers where it showed you most of the movie, and probably all the really funny bits. I just hope there are a few more unexpected laughs in the movie itself.
This deal will expire on the 6th of August 2009.
Have you seen Bruno? What did you think?