EGG-O Wine Cooler Now $23 @ Amazon.ca *EXPIRED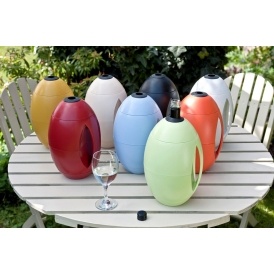 *UPDATE: looks like lots of people felt this would improve their weekend festivities! Appears to have sold out already!
I don't want to be forward or anything—but someone better get me this for Mother's Day... haha! Maybe I will just buy it myself. The EGG-O Wine Cooler is one of the most genius inventions I have seen in quite some time, and now Amazon Canada has it on sale for 48% off the regular price. So instead of paying $43.68, you will pay just $22.52. Amazon Prime members will also enjoy free shipping.
How cool though. Seriously! The EGG-O Wine Cooler comes in six different colours, but only the beige is on sale for this low price. That's okay though—beige matches everything. The EGG-O Wine Cooler is designed to hold your entire bottle of wine, and keep it cool wherever you go.
This genius invention makes it beyond easy to serve and transport your wine while keeping it cool. It also means you can't drop your wine bottle and break it! Yes, that has happened to me. It is designed with functionality so that you can still pour the wine into a glass while the bottle is inside the cooler, but don't we all just drink straight from the bottle? Either way, this is a must-have for any avid wine lovers if I do say so myself.
Amazon.ca normally requires you to spend $25 to have shipping included. Though, if you are an Amazon prime member you will get free shipping with no minimum purchase.
(Expiry: Soon?!)