LEGO The Disney Castle 4,000 Piece Set Back In Stock!
Edit! This is back in stock but you'll have to hurry, these sell out quickly once they are back. Good things come to those who waited for it to come back, you'll get a bonus LEGO globe during checkout.
We are excited to report the Disney Castle has come back into stock (it had quickly sold out after it's debut) and along with your purchase you will now receive a free LEGO Creator Christmas set that has a value of $24.99. This is an exclusive set of 24 miniature Christmas LEGO toys that you can't even purchase this on it's own! This free set will automatically be added into your cart when you buy the Disney Castle.

The Disney Castle, LEGO item #71040 (which so happens to be modeled after Cinderella's castle in the Magic Kingdom at the Walt Disney World Resort) is making it's debut very soon, on Sept. 1, 2016. (Just how many castles does Cinderella have, anyway? Well, she also has one in Tokyo Disneyland at the Tokyo Disney Resort.)

LEGO keeps getting better with creativity with each set they make and this LEGO set that contains 4,000 pieces of magical Disney fun definitely proves that point. I mean, just look at it! This set is exclusive to the Lego Shop Canada.
Although it's geared for ages 16 and up, it's definitely something the whole family can enjoy together. The price tag of $399.99 is steeper than most LEGO sets but you'll probably be wishing you had this LEGO set just as badly as your kids wish they did, once you go to the link below to view it.
There's so much included in the set, it makes a really great family gift when the gift giving season arrives. Make sure you sign up for your LEGO VIP account if you haven't already, so you can collect 399 VIP points on the purchase of this awesome castle set. (400 points is worth $20 at The Lego Shop Canada.)
You won't just build and forget about this LEGO set. The Disney Castle LEGO set is a true masterpiece that also contains a whole play world inside for countless hours of enjoyment. Each accessible castle room includes special features inspired by some of Disney's greatest animated feature films.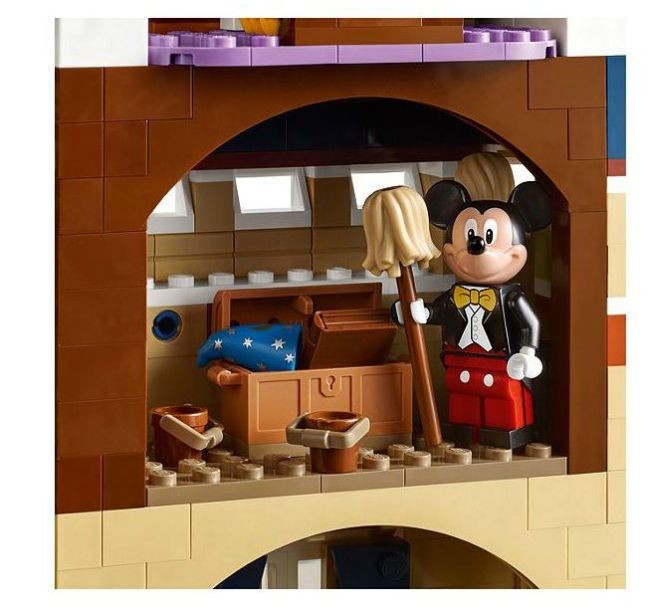 5 famous and popular LEGO Disney character minifigures are included: Mickey Mouse, Minnie Mouse, Donald Duck, Daisy Duck and Tinker Bell. I admit I was a bit disappointed that Pluto isn't included in this set. He's such a cutie! That's alright though because for all of the rest of the details they've put forth into this set (like the fireworks!!), we can manage just fine without Pluto.

The Disney Castle measures over 29" (74cm) high, 17" (44cm) wide and 12" (31cm) deep. You'll definitely need to find a great spot for this castle in your own castle!