Zoku Iced Coffee, Ice Cream & Slush Makers for 40% Off @ The Bay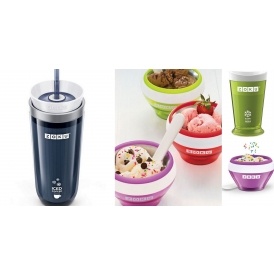 Today only at Hudson's Bay, the Zoku Iced Coffee Maker ($27), Personal Ice Cream Maker ($24) and Slush & Shake Maker ($16) are 40%, due to a 15% savings code. You must use coupon code EXTRA15 during checkout, to receive the full savings!
Wouldn't it be so awesome to be able to make a cup of iced coffee to take with you on the go on a hot summer day? It would stay cold for a long time because it has thermal mug capabilities. I never remember to cool down hot coffee to be able to make iced coffee the right way, (and let me tell you, dumping ice cubes into hot coffee just doesn't work!) With this Zoku Iced Coffee Maker selling for $27 after discount code Extra15, you can pour hot coffee or even tea directly into the pre-chilled stainless steel liner set inside the thermal insulated sleeve, for a great tasting iced coffee or tea in only two minutes. I think this would make a fantastic Mother's Day gift!
Your kids can chill this summer, with the Zoku Slush & Shake Maker selling for only $16 with discount code Extra15! You know how when you put hot coffee into the above iced coffee maker, it cools it into an iced drink? Imagine putting juice or pop into the slush maker and getting an ice cold slushy drink? Think of the savings on runs to 7-Eleven for Slurpees!

When my sisters and I were kids, we loved making ice cream more 'fancy' (less 'plain vanilla') by adding cocoa powder, Rice Krispies, Cornflakes, Special K, coconut and chocolate chips. Not all at once of course. An ice cream maker such as the Zoku Personal Ice Cream Maker would have been the best! It's selling for $24 with discount code Extra15. The ice cream is fresh, because you make it using basic ingredients like cream, sugar, milk, vanilla extract for the vanilla. I'm sure you could play around with recipes and come up with the perfect cold treat!
All of these products are BPA and phthalate free to ensure your safety, and all Zoku products have a great selection of colours to choose from.
Shipping at Hudson's Bay is free with purchases of over $99, with their infamous Bay Days on now, it won't take long to fill up your cart. Check out some of the other great Hudson's Bay sales that we have recently posted if you are looking for more great sale items. Orders under $50, ship for a flat rate of $5.95.

(Expiry date: April 28, 2016)