The Amazing Happy Birthday Candle $5.23 Including Free Shipping @ Amazon.ca Marketplace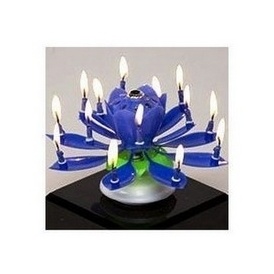 Here's a treat for kids' birthday cakes and other occasions that creates an awesome presentation at a party. When I saw similar candles to this being sold in a set of 3 for $30 USD plus shipping, I wanted to find it for less money at Amazon.ca Marketplace and they didn't disappoint. You can buy one of these candles in a pretty blue shade for only $5.23 including free shipping.
When you click on the above link, make sure to click on '4 new from' (as shown below.) Then you will see seller DYLER Tower, (who has the best/highest quantity ratings!)


First, you light only the center of the lotus bloom candle that has closed petals. Immediately the entire middle lights up big time - kids love these candles on a cake because of that spectacular effect.
Each candle then lights up simultaneously with the petals unfolding down at once into the design you see here in this picture. There's 14 candles total.
It even rotates and plays 'Happy Birthday' electronically.
The Amazing Happy Birthday Candle ships for free and will take several weeks to ship overseas from China.