TeamBuy Canada: 15-Piece Big Boss Grill Set Only $39 (Save 57%)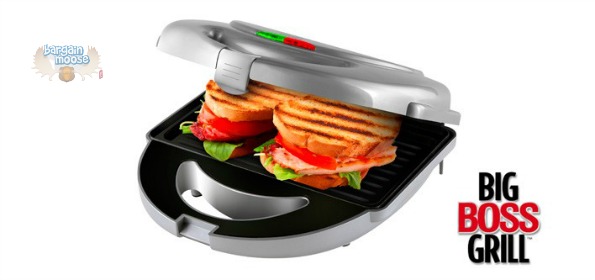 Team Buy Canada has a great deal on a 15-piece Big Boss Grill Set for only $39. This set has a value of $90.
The reason I wanted to blog about this grill set is because I think it is so cool. I was recently at a playgroup with my sons and they were making mini pizzas with it. Basically they were more like pressed sandwiches with pizza stuff (sauce, cheese, pepperoni) inside. While my son does love pizza, he gobbled his mini pizza up like it was the best thing in the world. My other son, who is very picky, took one bite and said no, but he was intrigued. I thought about how easy lunch would be to make with one of these, and the endless possibilities for sandwiches alone, never mind the other possibilities with the other attachments.
This countertop appliance comes with six sets of non-stick interchangeable cooking plates, with dual surface cooking so you cook evenly on both sides at once. Plates snap in very easily and you can put them in the dishwasher (bonus!!). You can grill, griddle, or make waffles, sandwiches, donuts and omelettes! What's also great about this is that if you already have a George Foreman and a waffle maker and a griddle, you can get rid of all those and save the cupboard space with one machine. I totally plan on doing this!
Shipping is $8 and you can buy as many vouchers as you like and they have no expiry.
(Expiry: 28th March 2013)