Sous Vide Anova Culinary BT $129 (reg. $199) + Free Ship @ Anovaculinary Canada
Edit: This cooking apparatus is on sale again!
My spouse is a bit like Gordon Ramsay, (minus the !#@!) He's quite the chef! As a result, I'm always looking for new and exciting kitchen cooking methods. I had briefly heard about the Sous Vide way of cooking and to be honest, what I had once thought of as 'boiling in a bag' (which didn't appeal to me at all)... turns out to be a world renowned method of cooking a variety of meats and more, to absolute tenderness and perfection!

With a 60-day money back guarantee, it's a sure thing that the product exceeds customer expectations. This 2nd Gen Anova Culinary is currently selling for $179.00, down from $259.00 for the bluetooth + wifi model. That's a $80.00 savings! If you're often away from home, it will help to have the wifi version. It's a safe method of cooking when you are AFK (Away from kitchen!) It will also serve up 8-12 people so dinner parties can become a reality.
The bluetooth only model is on sale for $129.00 down from $199.00 and will be able to serve 7 - 8 people.
You'll receive free ground shipping from the Anova Canadian warehouse.
When I look at what the Anova Culinary can do, I'm impressed with the product and I know it is something we will start using on a regular basis in our home. I know our readers will love this, too. This product has been featured in magazines such as The New York Times, Forbes, and Gizmodo, who stated: "Should You Buy It? Yes. Oh hell yes. I'm kind of in love with this thing." The Anova has also received a 4.5 star review on Amazon, so you know there is much ado about something! It's not all just hype.
Check out this link here on the Anova website where it states the following, in regards to cooking a steak:
"Sous vide cooking makes it easy to cook a perfect (yes, perfect) steak. Take a look at the photos above. Both of the tenderloins started at the same weight. The steak on the left was cooked in a pan to a core temperature of 126°F (52°C), but more than 40% of the meat was overcooked. See that grey band? That's overcooked beef. The steak on the right was cooked sous vide to the same temperature and then seared with a blowtorch. As you can see, the steak cooked sous vide is perfectly medium rare from edge to edge."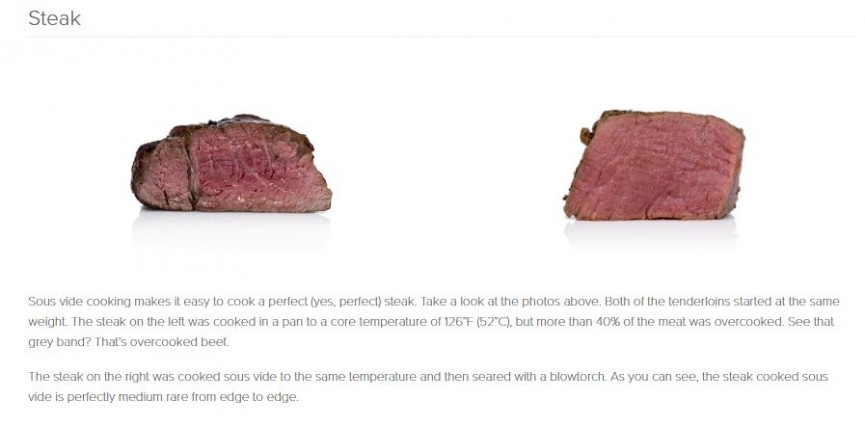 Do yourself (and your family) a favour and head over to this link here, which describes what Sous Vide cooking is.
The main concept in a nutshell is this (from the website:)
"Sous vide" is a technique that is about bringing food to a very precise temperature and holding it there for a period of time, which is why we refer to the technique as "precision cooking."
To cook sous vide, first prepare your food of choice — it can be anything from a steak or a chicken breast to corn on the cob — then place it in a plastic vacuum-sealed or zipper lock bag. Attach your immersion circulator to a pot of water and set the desired time and temperature. Clip your sealed bag of food to the pot and let it cook, the circulator moves water around the pot, ensuring a consistent temperature throughout. Once your food has finished cooking, you can sear it, serve it, or even save it for later.
I realize the food really will probably need a quick 'sear' at the end of the cooking process - but what a super easy and especially tasty result, from start to finish.
Shipping is free!