Soda Stream Play Sparkling Water Maker $70 with Code @ Sears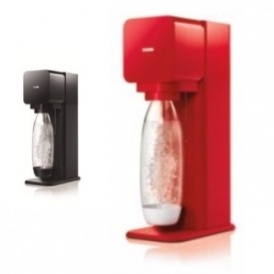 If your family drinks pop or sparkling water and you haven't already, you must get yourself a Soda Stream! We have one and absolutely love it. Even better, right now at Sears, the Soda Stream Play is on sale for $79.99 using coupon code 941612691 will get you an additional $10 off and you'll pay just $69.99.
You won't believe how much money this little gadget can save you. My husband drinks a pop a day and (health effects aside...) that really adds up. He picked up a Soda Stream and I don't think we've bought pop since. It's fun to experiment with flavours, too. They sell the flavour syrup just about everywhere--Walmart, The Bay, etc.--and you can play around with the combinations.
The Play is available in black, red, white, yellow and blue to suit your kitchen or mood. They're super easy to use and don't even require batteries or electricity. The Play Kit from Sears includes the Play machine, 1L Source/ Fuse carbonating bottle that coordinates with machine colour, a mini CO2 cylinder and a mail-in rebate coupon for $15 off the purchase of a full-sized (60L) CO2 cylinder (they run about $20). The machines also include a two-year warranty.
The Play Kit still sells for $99.99 at the Soda Stream site (their shipping is also, unfortunately, exorbitant)--grab it for just $7 right now at Sears!
Have it shipped to your local store or pick-up outlet to avoid shipping costs if you're not topping up your order to $99.
(Expires: Unknown)