Rosewill Halogen Cooker for $50 @ Newegg.ca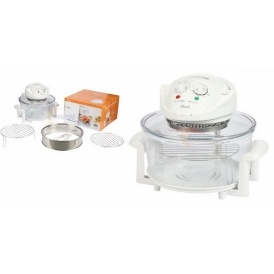 At almost 40% off, selling for $50 down from $80 this Rosewill Halogen Cooker is a must-have purchase. We use our Rosewill Cooker at least 3 - 4 times a week. You can cook tender and juicy meats such as pork loin roast—just sprinkle the roast with Club House La Grille Montreal Chicken seasoning, (they sell the Pork variety as well) and let it sit in the cooker for around 45 minutes to an hour at 375 degrees. Obviously make sure the internal temperature is a safe minimum temperature of 160 degrees F. Then let it rest for a few minutes before slicing it. The roast gets crispy and flavourful on the outside but stays very tender and juicy on the inside.
Another great thing to cook in this cooker is skin-on chicken thighs. You can use your own seasoning, or Shake 'N Bake, either BBQ Glaze or the Southern Fried variety. I prefer the flavouring of the chicken when cooked in this Rosewill Cooker, as opposed to on the BBQ!
The unit does look a bit strange with the dome over the glass bowl, but is easy to wash. The bowl has a 12 L capacity that can be extended to a 17 L capacity when you use the included extender ring.

It is pleasant to use while cooking—it emits a fan noise that is not too loud, and the infrared light goes off and on as needed. I find it very soothing to be in the kitchen cooking with this because you can smell the fragrant food as it's cooking. It doesn't heat up the house as much as other methods of cooking, so we have found this to be an ideal cooker to use in the summer.

We liked ours so much we have purchased three as gifts, and all have been well received. This edition is the 2nd edition of the product and with the stainless steel extender ring that is now included, you will be able to cook larger whole chickens. We cook whole chickens using orange, lemon, and lime slices inside of the chicken. The flavours permeate throughout the tender chicken and it tastes great! I know what we are having for dinner this evening!
Shipping on this item is $11.99.

(Deal expiry: Unknown)