Star Wars Cookie Cutters Under $5 + FREE SHIPPING! @ Amazon.ca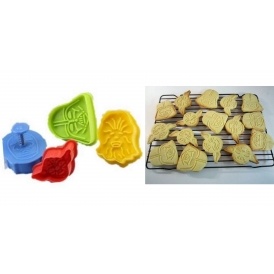 Time to start getting ready for "May the Fourth be with you" day that Star Wars fans young and old across the nation celebrate. It takes place this Wednesday, so you while you won't get these guys delivered in time, you can still have them on hand to celebrate with your little (and big!) fans year 'round.
I'm impressed at how great the cookies look in the photos. They are fully formed and you can easily make out the characters. When I try these out I might have to post a 'nailed it' pic. I have a hunch mine may not turn out as perfectly shaped as the ones in the picture. My guess is Chewie will end up looking like Pooh... That's Winnie the Pooh! On a another note, I bet the cookies will be tender and Chewie either way.
The price is only $4.40 and includes FREE shipping! Now that's a cookie I can really sink my teeth into. Please note that these are sold via a third-party seller and are not "official" Disney merchandise, also as they ship internationally shipping times could be quite long.

(Expiry date: Unknown)