Make Your Own Ring Pops Icy Pops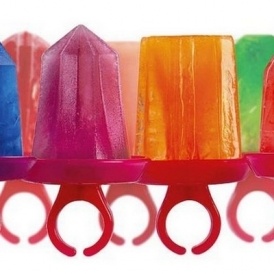 Talk about icy bling! A 'Ring Pops' design looks so cool as a mold for ice pops. I want these ring pop popsicle molds!
Although it's not on sale, in this case, the novelty of it is well worth it for an upcoming birthday party that I'm helping my friend plan for her daughter.
This product is being sold by a few different Amazon.ca marketplace sellers, with the lowest priced one at the time of writing being by seller Golda's Kitchen, and the price is $16.50, plus $12.55 for shipping.
Ever since 1977, kids have enjoyed Ring Pops sugary treats that make your tongue blue, red or whatever.
You can make these Ring Pops ice pops with healthier diluted juice, for a refreshing treat. I would make mine with iced tea, I bet that would taste good. Or maybe a Long Island iced tea... hmmm.... would that even freeze??
The brighter you can make these ring pops, the more fun.
Shipping - Varies
(Deal expiry: Unknown)