Heatwave? Make Your Own Snow Cones! Cuisinart Snow Cone Maker $50 Shipped @ Amazon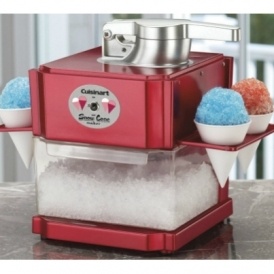 What's the weather like where you are? I'm in southern Ontario and we are in the midst of a vicious heatwave. It's expected to feel like 42 C today with the humidity! Gross! In such weather, you need a fun way to cool off like this awesome Cuisinart Snow Cone Maker that Amazon has marked down to just $49.99.
The Cuisinart Snow Cone Maker has a cute, retro look. It has a professional motor and blade mechanism (with safety feature) so it should last longer than cheaper consumer models.
It makes 4 to 5 snow cones in less than a minute! It even has holders on the side to store your freshly made cones. It comes with 4 BPA-free reusable cones and 12 paper cones.
This would be perfect for the kids, of course, but imagine a slushy cocktail in the backyard on a hot summer day? Yum.
This great little machine has wonderful reviews and even comes with a 3-year warranty.
As it's over $25, Amazon will ship your new snow cone maker to you for free!
(Expires: Unknown)