Awesome Two-Tier Fruit and Veg Storage Bin for $26 Shipped @ Amazon.ca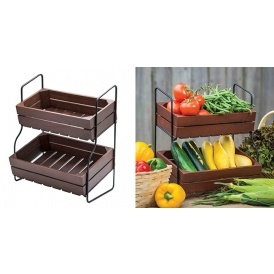 I'm planning on buying this storage bin for my kitchen counter to use for displaying fresh fruits for the kids to snack on. The price is $26.40, and includes free shipping. I don't know why, but if fruit is washed and in a bowl it is more tempting to eat than if it's unwashed in the fridge. For kids and adults alike. I think it would be a gorgeous kitchen accent piece! It's made from made from paulownia wood and is moisture resistant, too.
Would I need two, though? Hmm... I started thinking of the things I could store in these bins. A coffee centre is really appealing. Coffee individual pods in the bottom bin and coffee syrups, flavourings, Chai tea, in the top tier.
Then I thought of cosmetics. How handy would it be to have everything in one spot to easily rustle around in? Sometimes organizers designed for cosmetics go too far out of the way to have a little holder for each item. (Let's face it, who consistently puts the cosmetics back in a specific spot?) I say, dump them into the bins. Accessories for hair can go in the bottom bin.
These wooden bins would be great to store small toys too, for your kids. If you think little Lego pieces would fall out, just use a wax paper liner in the bottom of the bin.
Fully assembled size is 14 x 9.25 x 16-Inch. As always, free shipping at Amazon.ca on items over $25.
What would you use these organizing bins for? The options are endless!