Fasta Pasta - The Microwave Cooker Now $20 @ Amazon.ca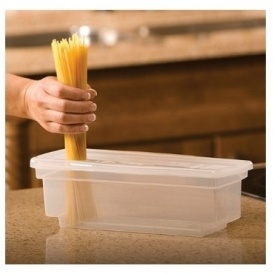 I had never heard of this nifty contraption before - but here you have it. The Fasta Pasta Microwave Cooker. It guarantees to give you perfect, al dente pasta in minutes - for just $19.99.
Why have I never heard of this? As a mom, I would give anything to have quick pasta meals for lunch. It is hard to stand behind a pot of boiling water while the little ones are running around like tiny destructive monsters. The Fasta Pasta Microwave Cooker is on sale at Amazon.ca for $19.99 down from $39.99 - though I see this contraption elsewhere for $35 - $45 CAD.
And don't worry - the plastic is BPA free. Also, if you prefer a more cooked pasta over al dente, you can just stick with the higher cooking settings. You can cook absolutely any type of pasta which is convenient because my son goes through phases of only eating one type. Stay tuned for our picky eating toddlers post if you're in the same boat there. A huge bonus: the Fasta Pasta Maker is dishwasher safe. Yup. No more washing those HORRID pots and pans.
Here's a quick video to show you how it works: The instructions can be found on the Fasta Pasta website to give you an idea of how cooking pasta will transform for you. I actually just purchased one and I am rather excited to try it out.
Amazon.ca offers free shipping on orders over $25.
(Expiry: Unknown)