Cuisinart Programmable Kettle for $83 Shipped @ Amazon.ca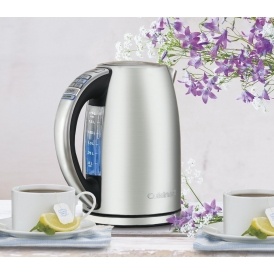 Looking for a new kettle? This one could be your new best friend. Talk about technology - all my kettle has is an on/off switch. This Cuisinart CPK-17C Programmable Kettle is on sale at Amazon.ca for 41% off the regular price. It was originally $139.99 but now it is $82.99. You'll even get free shipping, but hurry because this Lightning Deal is already 25% claimed.
The Cuisinart CPK-17C Programmable Kettle has me impressed, to say the least. I had no idea a kettle could have so many options. Invite all your friends over for a cuppa, this kettle can hold 1.7 quarts and heats the water up rather quick. The handle is designed to be non-slip as well as stay cool, and the heating element is concealed so that you don't have that nasty mineral buildup that forms in the bottom of your kettle. Ever get a mouthful of that before?
The current Amazon.ca price is the best around. This same kettle sells for $105 at The Bay, $110 at Sears and $140 at Staples. It also has an option to keep your water warm for up to 30 minutes as well as 6 different temperatures for different types of teas and beverages. The limited 3-year warranty is also included.
Amazon.ca offers free shipping on orders over $25, so you won't have to worry about any additional costs with this one.
(Expiry: 25th April 2016)