BlenderBottle GoStak 4-Piece Starter Stack from $13 @ Amazon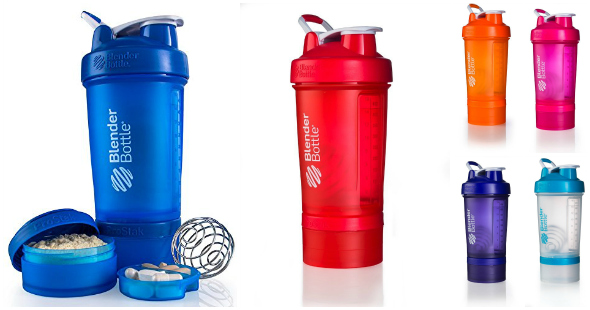 How crazy cool are these?! Though hardly cost prohibitive, this isn't so much of a deal as it is a great idea that might make our lives easier. And that's priceless and, therefore, a bargain! I found these impossibly-long-titled BlenderBottle GoStak Twist 'N Lock Storage Jars and had to share. They're available in a whopping 16 colours, all with varying prices, but a few are just $12.99.
If you've never heard of a BlenderBottle, they're sports bottles with a wire whisk right inside to help mix protein powder when you're out and about and can't use the blender. If you don't thoroughly mix protein (or other supplement) powders, you don't want to drink them; the result is usually grainy, chalky and downright gross. The base of this set is a BlenderBottle, which start at $12.99 on their own but here, you're also getting the stackable 150 cc jar, 100 cc jar, and pill organizer.
The interlocking jars can be used separately and there are additional jars available for purchase on Amazon, as well. The ProStack Expansion Packs start at $8.89 for 4 additional containers.
The BlenderBottles are leak-proof, BPA-free and dishwasher safe.
I think this little set up would be great for many people, not just "gym rats". If you take any kind of meal or fibre supplement at work, this could be handy; you could use the other containers for small snacks, like almonds, to help get you through that 3pm slump.
We're an active household and I think these will be perfect to send along to soccer and squash and marathon grocery shopping trips.
You'll have to top up your order to $25 to qualify for Amazon's free shipping if you're not a Prime member. Some colour combinations of the BlenderBottle GoStak and the additional containers would put you just over the limit if you purchased one of each.
Could you use something like this, Moosers?
(Expires: Unknown)