Tuffo Muddy Buddy Suits $37 & Free Shipping @ Amazon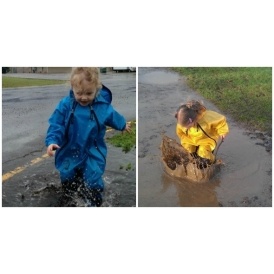 April (snow?) showers might bring May flowers but they also create a big mess! When I saw the amount of 5-star reviews on these Muddy Buddy coveralls by Tuffo, I had to check them out. A $40 price point was pretty standard so you can even save a couple of dollars—and receive free shipping—at Amazon as they're $36.95.
The Muddy Buddy is a PVC-free, waterproof coverall for the messiest of situations. It's breathable and lightweight but has reinforced knees and seat for extra durability. They're sized with a generous fit for easy layering over clothing but do go up to 60 months.
They're machine washable (thank goodness) and even come with a handy waterproof bag for travel and storage. The Muddy Buddy is available in five different colours, including a camouflage design.
People just love these. Reviewers note that they do fit big but that's perfect for layering and rapidly growing kids! And, I'm sorry to tell you, someone has already inquired and they do not come in adult sizes. Boo!
Do you have a Muddy Buddy for your kid(s)? How do you like it?
(Expires: Unknown)