Kids' Lightweight London Fog Jackets Now $27 @ The Bay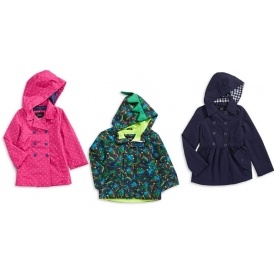 Spring is here, time to pack away those winter jackets. If you have kids, then it is most likely time to hand them down rather than store them for another six months. You'll be wanting to buy a spring jacket for the kids though - which is why you should shop at The Bay right now. You can get select kids' F.O.G. by London Fog Jackets starting at $26.99 - which is a pretty stellar price for the quality at hand. Spend $99 to get free shipping.
So there are 16 kids' London Fog jackets available for $27 - and a few others for a few more dollars. You will want to follow my link above and pick the most suitable for your kids, because I won't be able to tell you about them all here.
London Fog is a great brand to get for such a low price. The F.O.G. by London Fog Water-Resistant Polka Dot Jacket is on sale for $27 down from $45. It is only available in this adorable pink polka-dot, like pictured above. There are several sizes available at this time, and you will be happy to hear that this coat is machine washable as well. Another cutesie jacket is this F.O.G. by London Fog Water-Resistant Trench Coat which is on sale from $48 down to $28.80. This coat only comes in navy, and only four sizes remain so don't hesitate long. I wish I could get this coat in my size! Look at those ruffles around the waist area.
Naturally, I have a three year old little boy so this Hooded Dino Coat by London Fog stood out to me. For just $26.99 this jacket has the 3D Dino Spikes on the hood and is water resistant. This doesn't appear to be a sale price, but I am sure you won't find a jacket like this for twenty-seven bucks anywhere else. I like the London Fog Printed Water-Resistant Coat for girls, which is the same price. It comes in Pink Gingham or Purple.
You will need to spend $99 to get free shipping - but if you have more than one kiddo, or perhaps a friend who needs to order one for their kiddo then you can reach that minimum in no time. Otherwise, flat rate shipping is $5.95 for orders under $50 which isn't unreasonable at all.
(Expiry: Unknown)