Walmart Canada: Up to 75% Off Backpacks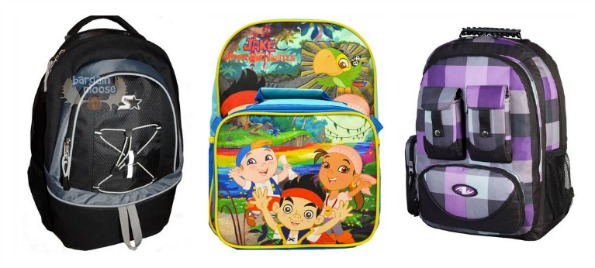 The kids are back to school already in full force which means some of the back to school deals have gotten even better. Walmart Canada has some spectacular deals on backpacks with prices as low as just $5 and up to 75% off.
I am always looking for new backpacks because my kids don't just use them for back to school. We use them for family swimming afternoons, play dates, picnics in the park, sleep-overs at the grandparents, night-time sport activities and many more things.  My family of four is always on the go and backpacks for different activities keep us all organized.
All of the clearance backpacks will be either $5, $7 or $10 and some of them even include some extras with the back packs.  There are just too many different backpacks to mention all of them, so I thought I would let you know about a few of them for kids and teens instead.
Deals for the Kids
Deals for the Teens
This is just a fraction of the deals you will see in this section. In total, there are 40 backpacks discounted up to 75% off the regular prices. It is pretty great that even at the highest price point of $10, some of the backpacks include a water bottle and a lunch kit as well.
All of these backpacks are sold online and most likely will no longer be in stores for you to get the same deal.  Since backpacks are all one size fits all, there is no need to worry about it not fitting so shopping online for them is perfect.
I plan on grabbing a few of them for my kids for their extracurricular activities and even as a backup to their ones right now.  I can't tell you how many times I have to buy them a new one mid-year because they just get so much use out of them and I end up paying full price.  I can get another one now and give it to them at a fraction of the regular price it would cost me in a few months.
All of the backpacks will get free shipping no matter how much you spend.
(Expiry: Limited time only)