Walmart Canada: 6-Pc Purple JetStream Luggage Set Just $39! (EXPIRED)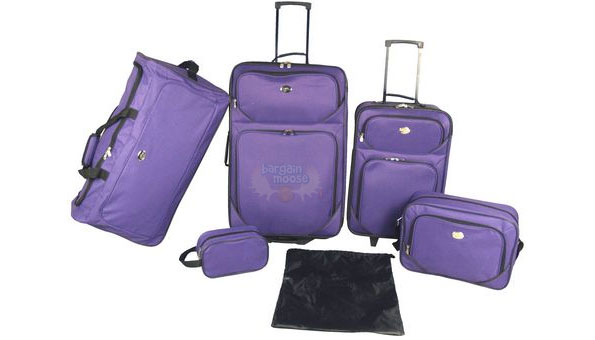 Planning to get away? The JetStream 6-piece luggage set in purple is just $39 at Walmart right now! Shipping is also currently free but not for long, so make sure to take advantage of it while you still can!
I'm sure that many of you are weary of paying such a low price for a luggage set but here's a pretty convincing review:
For the price I paid, this is an AWESOME set of luggage!!
Not only that, but this luggage set has a total of 9 reviews and all of them range from 4 to 5 stars! Here's another review:
Seems sturdy, lasted one trip so far, good purple colour. The price is great. Can't fault it for the price.
It comes with:
26" upright suitcase
26" wheeled duffle bag
20" upright suitcase
19" laundry bag
15" tote bag
9" toiletry kit
With the exception of the laundry bag, all of the pieces are made with top and side handles that feature reinforced stitching.
If we break down this luggage set by price, then it comes down to just $6.50 per piece. Most people tend to get dark-coloured or more specifically, black luggage sets, but if you have ever travelled, then you will know just how hard it can be to spot your luggage. It's best to have a colour that more easily stands out, so that you can just quickly grab and be on your way!
The only issue is that Walmart doesn't list the weight of each suitcase. This is a major factor when selecting luggage as the heavier it is, the less you can put in it but in any case, the amazing price does negate this little factor.
There aren't very many left but you could also get the Travelway JetStream 3-pc luggage set for just $32 instead. The purple one is already sold out but you could get the black one while supplies last.
Shipping
Shipping is also currently free but since Walmart is in the midst of changing their free shipping minimum from $0 to $50, then a shipping charge may be applied at any moment. If you see a shipping fee for these suitcases, then you will only be missing $11 to qualify for free shipping, so my advice is that you get a filler item. Walmart is so versatile that you could add anything from Easter chocolate to toiletries and much more. Check out the clearance and rollback sections for inspiration on what you might need for your household. Alternatively, you could have this luggage set shipped for free to your local store or to your nearest Canada post location. Having it shipped to your nearest Canada Post location would definitely be the best decision in that case.
(Expiry: Unknown)