Valentine's Gift Idea: Kenneth Cole Smart Watch $139 & Free Shipping @ Hudson's Bay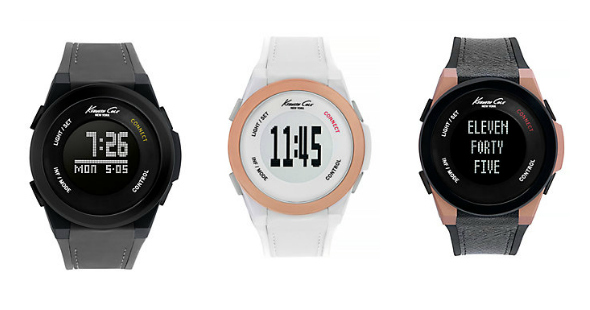 I've never made a big deal out of Valentine's Day. Despite my reluctance to celebrate this mid-winter holiday, I happen to have (somehow) landed the greatest guy ever and end up getting a gift anyway; whether I deserve it or not. Flowers are always a beautiful option but they die, you know? Get your special someone something cool, stylish and incredibly useful. It also happens to be on sale. The Kenneth Cole Bluetooth Smart Watch (with silicone strap) was $199 at The Bay but is currently just $138.99. One of these watches would make a great gift for any techie - male or female - and it ships to you for free.
I was looking at another retailer's website earlier this week and they had their Valentine's Gift Guide divided by gender and the "Tech Gifts" were only under the Men's section. What's up with that? Women love phones, tablets, fitness trackers, laptops, DVRs, and all those other gadgets just as much as men. This unisex Smart Watch by Kenneth Cole comes in a few different colours, and with some slight variations in the detailing, so you have lots of choice no matter who you're buying for. And, if you're single, buy one for yourself. You deserve it!
The options are: Black, Dark Gray, Blue, Red, Black with Rose Gold and White with Rose Gold. The white is especially sharp. If you wanted to go with a stainless steel bracelet, that model is also on sale for $174.99.
I'm all over this watch. Each model contains app-enabled (iOS or Android) functionality and allow the wearer to stay connected via notifications; all the while appearing as a chic, but ordinary, watch. Here are some of the features:
Bluetooth connectivity
Date display
Time synchronization between phone and watch
Alerts for incoming and missed calls, emails, text messages, alarms and calendar invites
Controls music
Activate your camera for easy selfies (very important)
Now, this isn't the Apple Watch but it's a great, relatively inexpensive option for someone who just wants basic alerts and controls without having to pull their phone out every time. And I think it's pretty cool! What do you think, Moosers? Most importantly, what would your Valentine think?
(Expires: Unknown)