The Bay Canada: 50% Off Nicki Minaj Gift Sets - Now $39.99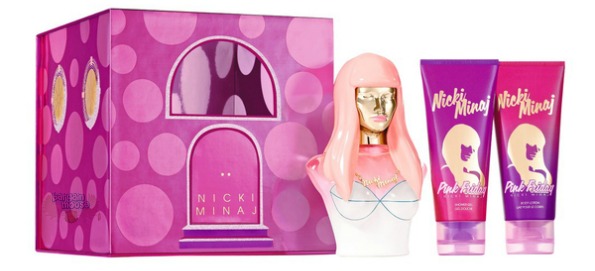 The Bay Canada is offering 50% off Nicki Minaj beauty gift sets that were $80. Pick up your favourite gift set for only $39.99.
There are three funky gift sets to choose from.
This gift set includes 100ml Nicki Minaj Minajesty Eau de Parfum Spray in a Nicki bust perfume bottle with a gold face and pink crimped hair. The bottle is just fantastic! You also receive 100ml Nicki Minaj Minajesty Body Lotion, 5ml Nicki Minaj Minajesty Eau de Parfum and a bright pink Rollerball Traincase to put all your beauty products in.
This gift set has my favourite perfume bottle: the bottle is mostly clear and the head of the bottle has cotton candy pink hair that is straight and long, framing a golden face. In this set you receive a 100ml Nicki Minaj Minajesty Eau de Parfum Spray, 100ml Nicki Minaj Minajesty Body Lotion, and 100ml Nicki Minaj Minajesty Shower Gel with a matching cotton candy pink traincase.
The Pink Friday Gift Set has pretty much the same items in it: perfume, body lotion, and shower gel but they are presented in a collector's edition gift box. This will all come down to personal preference. I think the gift box looks better than the train case, but it also looks like the collectors box is made out of cardboard so I doubt it would last as long as the traincase.
I really adore perfume bottles more than I like perfume! I think some bottles are really artistic and I could see myself, when I get older, totally collecting perfume bottles as mini works of art. In case you didn't notice, the Pink Friday set comes with two 100ml products besides the perfume (shower gel and lotion) whereas the Minajesty set only comes with a body lotion and a 5ml of another perfume. I think the Pink Friday sets are the better buy. While the traincase might be more durable than the collector's edition gift box, the latter looks far nicer and I would probably buy the third gift set.
Either way, 50% off these perfume gift sets is a very nice offer from The Bay Canada. As an added incentive, if you pay with an HBC card you will receive free shipping on orders of $29 or more in the cosmetics and beauty section. Thus, these kits would ship for free if you have an HBC Card.
(Expiry: unknown)