Take 50% Off The Laugh & Learn Apptivity Puppy For Just $20 & Free Shipping @ Walmart.ca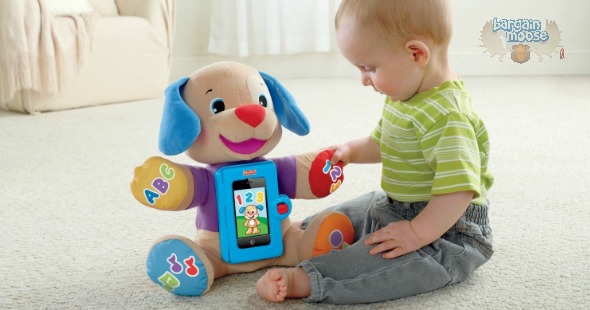 My son is constantly wanting to play games on my phone, and trust me that started at a young age. You may have a little one in your home between the ages of 6-12 months. If you do, you would most likely appreciate something to protect your iPhone or iPod from your drooling, chewing and throwing infant. Right now Walmart.ca has the Laugh & Learn Apptivity Puppy on sale for just $20 which is half of the previous price.
The Fisher Price Laugh & Learn Apptivity Puppy is an excellent source of entertainment for children ages 6 to 12 months. This Apptivity Puppy is designed for the iPhone 1G, 3G, 3GS, 4G, 4S as well as the iPod Touch 3G and 4G. I suspect that this is why this Laugh & Learn Apptivity Puppy is on sale for 50% off the regular price at Walmart.ca. Since these devices have become a bit outdated and most people have the iPhone 5 or 6, you can pay just $20 for the Fisher Price Laugh & Learn Apptivity Puppy at Walmart Canada. The Apptivity Puppy sells for $32.99 @ Sears.ca
This Apptivity puppy will allow your little one to enjoy Fisher Price apps on Mom and Dad's iPod or iPhone. If you wanted to, you could even get them their own iPod since there are many educational apps and games for children. Just place your Apple iPod or iPhone into the case on the puppy's stomach and be sure to twist the lock. Then your baby can squeeze Puppy's hands and feet to interact with the app. If you need to take your iPhone back to make a phone call, the Apptivity Puppy can still entertain your baby without the device inside.
I still use this toy for my son and he is 2. I place my phone inside with his movies playing, and he can't press the home button constantly. He used to press the home button constantly on long drives which just made my passenger or myself have to set the movie up for him again. He would eventually get frustrated and throw my phone. Now he can't press the home button at all, and if he does get frustrated enough to toss my phone it is protected.
Walmart Canada also offers free shipping on all orders with no minimum purchase. This is great, especially when you are spending a small amount like $20. I once ordered Mr. Noodles and had them delivered to my home for no shipping cost at all.
(Expiry: Unknown)