Studio 3B Multi-functional Jewelry/Scarf/Accessory Organizer was $20 now $6.99 @ Bed Bath and Beyond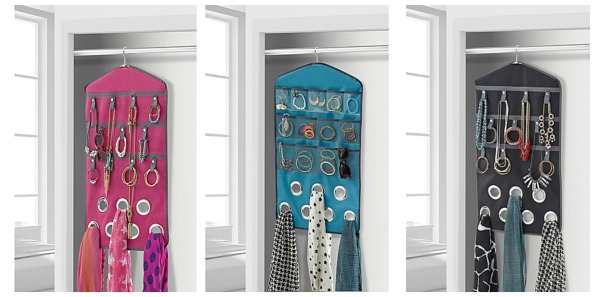 In the spirit of post-Christmas clutter, I am sharing with you something I spotted to help organize your small yet precious possessions. This Studio 3B Multi-functional Organizer was $19.99 and is now down to $6.99. This is a great organizer for those living in small spaces or any space that lacks storage areas. You can hang it up in your closet or display it in plain view. It comes in three colors: fuchsia, peacock blue and black. Shipping is also free on orders over $99.
When I buy organizers like these, it always makes me realize how many things I actually have lying around. An ear ring here and there, a scarf lying around that always falls down from the hanger, etc. This organizer makes it easy to keep track of jewelry, with the see-through pockets that provide easy access to what you're looking for. You can actually see your accessories instead of having to reach down into a bag and moving your hand around, grasping everything until you find what you're looking for.
This organizer is meant for jewelry, scarfs and accessories, but who says you have to use it for those things? If you have other things you'd like to hang up that take up too much of your space, like your belts, why not make it work for you? It's so easy to lose small items and accessories if you don't have a proper place to put them!
Another feature of this organizer that I really like, is the fact that you're able to just pick it off the rack, and take it with you. You can pack it in your suitcase, or simply bring it to a friend's house. No need to pack a small back full of your accessories, you can just grab this organizer and go. No need to worry about losing your things either, since they will all remain in this organizer unless you choose to take them out.
If you have extra closet space and you're looking for more ways to hide your accessories, I also spotted this InterDesign 4-Hook Axis Rod to store away belts, scarves, purses, etc. Originally $11.99, this rod is now reduced to $6.99. It's another great way to take away some of the clutter in your home, by putting away things you may not need everyday but that you still need access to.

Bed Bath and Beyond has so many useful items for storage solutions. It's not the first place I'd think to check to organize my home, but as I browsing through the clearance section I saw quite a wide variety of home goods. Keep in mind, shipping is free on orders over $99 and costs $4.99 for this particular purchase.
(Expiry: Unknown)