Sears Outlet: Atlantic Flight Spin 2-pc Luggage Set Was $370 | Now $77 & Free Shipping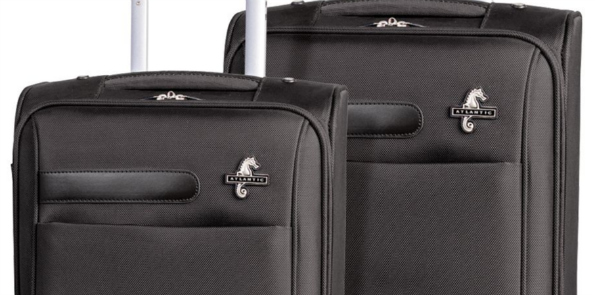 Sears Outlet Canada has had a couple of smashing coupon codes for this weekend only that are valid until end of day today. While looking at deals to combine with one of the coupons, I found this gorgeous Atlantic Flight Spin 2-pc Luggage Set on sale from $369.99 down to $109.94. Use coupon code 941612546 to receive an extra 30% off this sale price, thus bringing the luggage set down to $76.96.
This two-piece set comes with a 23" expandable luggage and a 20" non-expandable carry-on size luggage. The expandable luggage measures 8" deep before expansion: it measures 10" deep after expansion. That is perfect for all those last minute gifts you buy when on vacation. The 20" is carry-on size, so it can be used for short domestic flights, road trips, visiting the parents, and more.
Let us talk price. Now, you could very similar pieces of luggage individually at Sears Outlet right now. The small is on sale for $60.94 and the larger one is on sale for $68.94 before coupon. That adds up to $129.88, which becomes $90.92 after coupon. The Atlantic was also the cheapest 23" luggage available in the outlet sale, so you know this set is a pretty hot price.
Let us talk about the luggage. This set is made my Atlantic and it includes the 23" and the 20". They are called "Spin" luggage as they have a 350 degree wheel system that makes transportation easy. The wheels 'spin' completely around. As with most luggage today, these pieces come with a retractable push-button handle that locks into place when you have it extended.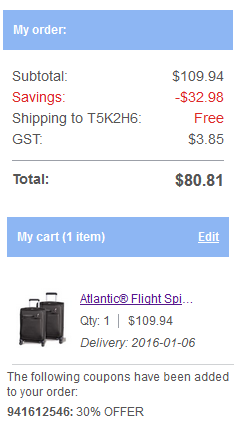 I love the expandable feature on the larger luggage as that is perfect for bigger trips. I always tend to overstuff my luggage on the trip home as I have collected fun new mementos that help me remember the place I have just visited. Bringing a wool blanket and a rug home from Iceland was perhaps the biggest challenge my luggage had seen.
Given the abuse that luggage sees when you travel; I am quite pleased that this set comes with a 10-year warranty. While that does not keep you safe from negligence, it will protect you from any faults within the luggage itself such as seams separating, rivets coming out, the hand no longer retracting, and more.
Be sure to get this deal today, as the coupon expires tonight. Receive free shipping as your order is over $49.
(Expiry: 3rd January 2016)