Sears Contest Day 2: Win a $100 Gift Card (CLOSED)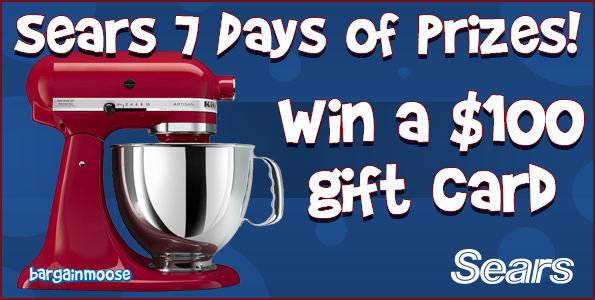 *** Contest now closed, winner added soon!***
Today is day 2 of our Sears 7-day giveaway and you've got another chance to win a $100 gift card from Sears.
Sears has a 72-hour toy sale going on, with up to 40% off toys. I think most of have some children to buy for this Christmas and toys are always a hit. I actually wanted to not buy my kids any toys this year as they have way too many, but my husband insisted that it is not Christmas morning without something to play with. Of course I caved. This sale might be just what I need to not spend all that much, and still put a smile on my kid's faces.
Imaginext is a fun brand and this Fisher-Price Alpha Explorer play set will bring out the scientist in any little one. It has a high rating and is 40% off until tomorrow, regularly $34.99, now $20.99.
What little girl doesn't want a baby doll and this very adorable Newberry Chloe blond/blue eyed baby doll is wearing the cutest outfit ever! It was $24.99, now $14.99. If you want a doll that more closely resembles the child you are buying it for, there are lots of different looks available in the Newberry dolls.
When I was a little girl, I would not have been able to resist this Barbie chalk hair doll. I loved doing my dolls hair and this is a way it is allowed (instead of using markers). This was $36.99, now $22.19.
How to win this prize?
What toy is your child wishing for this year? Let me know in the comments below!
Get bonus contest entries!
Rules:
Canadian entrants only
One entry per household
Ends 10th December 2014
Rules subject to change at admin's discretion