Sears Canada Contest Day 5: Win a $100 Gift Card (CLOSED)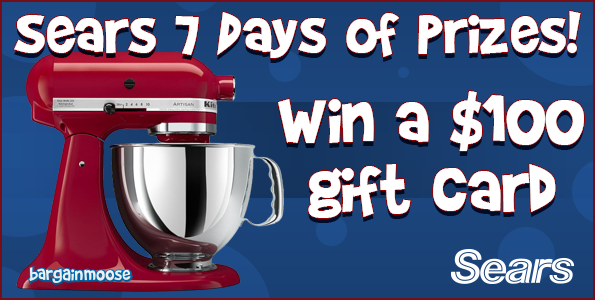 *** Contest now closed, winner added soon ***
Finally the weekend! I for one am very happy about this, but the deals must go on as so many of our Moosers love to shop on the weekend. With day 5 of our 7-day Sears contest, I've got another $100 gift card available for the win. What do you need to do today?
Well, first, how about having a look around Sears and seeing what items you'd love to get for yourself this year! I know Christmas is about giving, but so many of us give and give and never give to ourselves. I am truly one of those people. I am always looking for hot deals for my husband and kids, and even my dog, but I neglect myself.
I'd really love to reward myself a sweet KitchenAid appliance, like an Artisan stand mixer. These are a total of $220 off today, now $279.99 once you also submit your rebate for $50 off. I could also gift this to my hubby and have him bake me all sorts of goodies, which is treating myself in a roundabout way.
It also looks like Sears has got free shipping, no minimum all weekend, so take advantage of that where you can!
How to win this prize?
What item from Sears would you like to treat yourself to? Let me know in the comments below!
Get bonus contest entries!
Rules:
Canadian entrants only
One entry per household
Ends 13th December 2014
Rules subject to change at admin's discretion