Hudson's Bay Promo Code Stacking! Compile 20% off, 25% off, $15 off $75, etc! Glitch? (EXPIRED)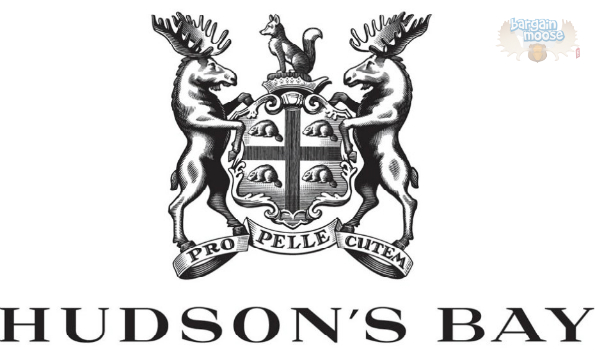 Don't you love it when a good deal comes together? Well, I do! Just like a few weeks ago here, I've found a few more promo codes from Hudson's Bay that seem to stack together to give MULTIPLE discounts on some items! Here are some of the details:
Click here to use The Hudson's Bay promo codes online now
Coupon Code: HBVIP49
Discount: 10% to 25% off
Expires: 7th September 2014
There are some terms and conditions for the above code: the 10% discount applies to regular priced cosmetics & fragrances, all mattresses, furniture, appliances & personal-care electrics. The 25% discount amount applies to all fashion and accessories, footwear, jewellery, handbags, linen and housewares.
Here's another code:
Coupon Code: HBVIPFD49
Discount: 20% off
Expires: 7th September 2014
This coupon code could have the same terms and conditions as the above, I'm not sure on that.
For illustration purposes and to how you how this deal works, I was testing this coupon code out on this KITCHENAID 5-Speed Blender which is priced at $149.99. When I added the coupon codes C7HOME7, HBVIPFD49 and HBVIP49, it discounted $89.25 off the price, bringing it down to only $60.74!!! And here's a screenshot of the multiple discounts being applied.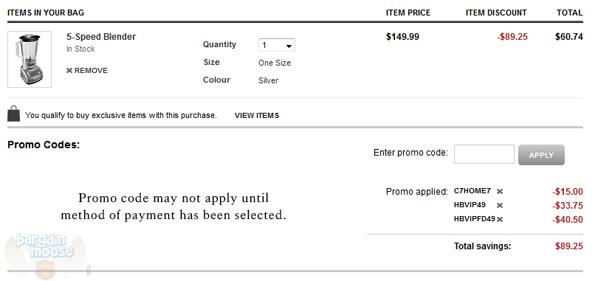 So here's what you need to do: find an item on The Bay that you want to buy. Go here to our coupon codes page and try all the code combos on your item and work out what gives the best discount. This deal is going to work best on items in the "home" category so you can combine multiple discounts.
Shipping is free on a $99 spend and a flat rate of $7.95 on order under that value… but with the amount you are saving with the above coupon codes, then paying $8 shipping isn't so harsh on a small order.
Hey! Tell us in the comments below what super bargains you manage to score!