Hudson's Bay Canada: Up to 70% Off Vases & Glass Decor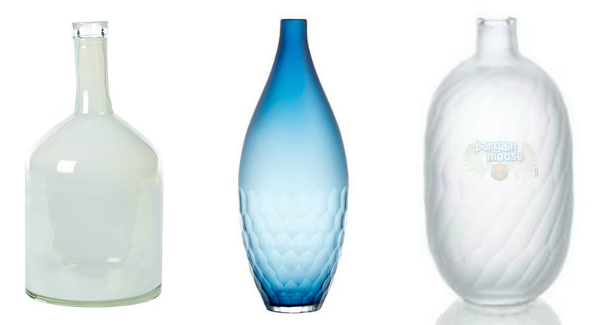 The Bay Canada is offering generous discounts on glass vases and glass decor currently. Save 60% on vases and 70% on general glass decor in their clearance section.
As per usual, I have spent some time hunting down all the best deals for you. Let us start with the vases first.
This GLUCKSTEINHOME Short Textured Glass Vase features a wide body and a narrow mouth to keep your flowers upright while holding a good deal of water and flower food for your beauties. It is a beautiful accent to your kitchen table. Originally $49.99, the glass vase is now on sale for $19.99.
For a taller version of the preceding vase, purchase the GLUCKSTEINHOME Tall Textured Glass Vase. They would look lovely as a pair staged together or placed apart. The height of this vase would make it a good centerpiece for your coffee table or end table. Originally $69.99, the vase is on sale for $27.99.
My favourite of the vases is the GLUCKSTEINHOME Tall Textured Glass Vase in Blue. It has a different textured pattern and the most stunning blue colour. I am sure water would just sparkle through this vase and it would be a stunning accent whether or not it had water in it. The frosted top half with beveled bottom half is sheer elegance! Originally $69.99, the vase is on sale for $27.99.
There are also a couple decorative bottles on sale for 70% off their original price. I am not sure if you can actually put anything in these bottles (like flowers or whatnot), but they are pretty and would certainly be great for decorating a room.
The POLS POTTEN Milky Bottle reminds me of old-school milk jugs with a modern twist. I like the strong white colour and, what appears to be, a slight uneven shape to the glass. The opening at the top also appears very small, so if you did use it as a vase I think only a couple stems could fit in it. Originally $75, the bottle is on sale for $22.50.
Match your milky bottle with the POLS POTTEN Tall Bottle in amber. The colours will complement each other nicely and the different sizes will look good when put together on a mantel, nightstand, or table. Originally $75, this bottle is also on sale for $22.50.
Receive free shipping on any order of $99 or more. When paying with your HBC card you will receive free shipping on $49 or more.
(Expiry: unknown)