Homesav Canada: Just In Time Sale On Unique Clocks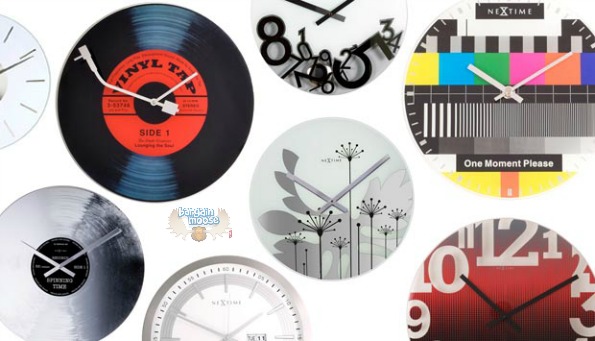 Homesav Canada is selling a very unique, wide range of clocks for the wall, table, etc.  This is a final sale, items will arrive approximately 4 – 6 weeks after order and the sale ends on September 7th 2012.
I do like a unique clock that will match the décor of the room it's in.  I also prefer a larger clock so it's easy to see what time it is at a quick glance.  There's nothing wrong with having a good conversation piece in your home as well.
This Pauline Clock that was $180 and is now $74 is just what I mean.  It would most certainly spark a conversation and would be fairly simple to see what time it is at a glance.  This is made from recycled, vintage or antique items and may show some imperfections for that reason.  I think this would make a wonderful kitchen clock.
Now this Hal clock that was $83 and is now $39 would definitely be visible.  This clock could pretty much go anywhere in the house as it is just a simple black and white.
If you'd like to have a little bit of a challenge, take a look at this Jumbled Wall clock that was $193 and is now $84.  This clock would be a great addition if you're looking to start conversations as it clearly looks broken.  I do like the unique look of it, but I'm not sure if telling the correct time would be easy.
Here's my favorite;  I just love these old fashion alarms clocks and this Liz Clock II that was $128 and is now $58 fits the description.  This would look absolutely wonderful on my night stand, though I'm not sure how loud it would be.
Keep in mind when you're ordering, that all of these clocks require one AA battery, which is not included.
Shipping: Free on orders of $100 or more
(Expiry: 7th September 2012)