Homesav Canada: Great Bamboo Serving Dishes & Accessories For Up To 69% Off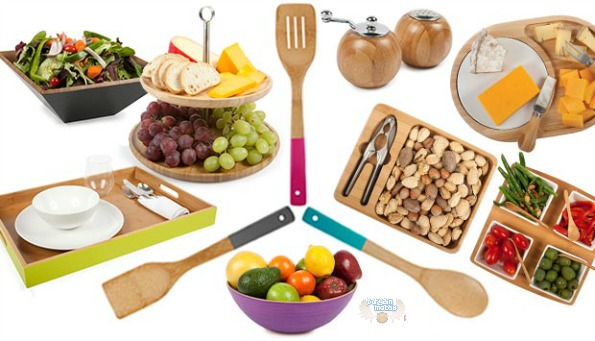 Homesav Canada is offering some great Core Bamboo serving dishes and accessories at up to 69% off retail prices.  All products are made by their experienced team of artisans in a safe and responsible environment.  The shipping is free on most items and sale is valid until December 13th 2012 or while quantities last.
Cutting boards are always a huge necessity at this time of year, or for any holiday.  This Pro-Chef Butcher's Block with 3 prep bowls that was $294 and is now only $89.  I actually have one of these, and it is a must for any kitchen.  We are quite big on extra toppings and dips for our various favorite finger foods and this board comes in so handy.  It's nice to work with as the size is quite large, and it's even great to use as a serving tray with the bowls fitting right into the block.
There are some nice serving bowls as well, like this Astor Bowl Magenta that was $77 retail and is now only $38.  Now this is made of bamboo with a gorgeous magenta colour on the outside, but needs to be hand washed, so not ideal for a dishwasher.
I also love this little Cheesy Board that was $37 and is now only $28.  I like to serve many different cheeses during the holidays and always find it useful to have a board and knife dedicated to just that.  This comes with the bamboo board in a cheese slice shape with a stainless steel cheese knife that actually has the word cheese stamped out of the blade.
One of the best pieces, I believe, is the Revolving Serving platter that was $80 retail and is now $54.  These are great for those snacks like nuts and fruit or cut up veggies.  The tray has six places for different items as well as a lovely little ceramic bowl in the centre for dips and such.
Shipping: Free with orders over $100.
(Expiry: 13th December 2012)