Get the Aqua Dragon Underwater World for Just $9 & Free Shipping @ Walmart.ca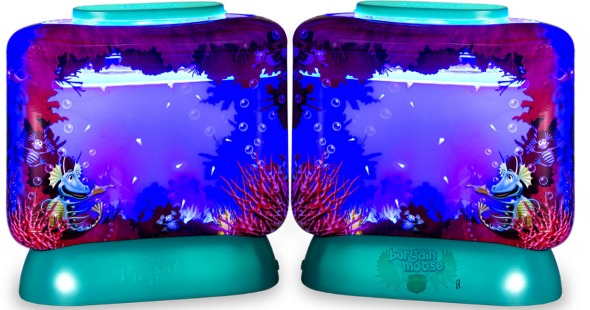 Brrrrrrr... It is cold outside. I bet your little ones would appreciate something fun to do indoors. Why not grab one of these Aqua Dragon Underwater World toys from Walmart Canada? This product was $20, but is now on clearance sale for just $9. You will also get free shipping.
You probably remember "sea monkeys" from when you were a kid - well things just got a little more interested in the water world. Brine shrimp have been called many things to tempt the public to purchase these adorable little kids. Originally known as sea monkeys, these aquatic creatures are now being referred to as Aqua Dragons! This kit from Walmart.ca will allow you to decorate your tank and hatch your own live aquatic creatures for just $9 instead of the original price of $20.
The accessories included in this Aqua Dragon Underwater World kit are: the decorated tank, live eggs, food, air bubbler, spoon and instructions. These real live creatures are great. Set up  your decorated Aqua Dragon tank, and put some of the eggs in the water. Before you know it, your eggs will be hatching and ready to eat. Be sure to feed them as often as required (instructions included). Hatching takes 2-3 days. I will warn you that there is no way to clean the water without killing the Aqua Dragons, and the water can get gross after time.
To make sure this is the best price available, I did a little research. This is definitely the lowest price around at any retailer, and I bet stock will sell out fast. Sea Monkeys were always so popular and these little aquatic creatures are a great way to teach responsibility and routine. I used to have some on my office desk. You'll pay $25.87 @ Amazon.ca. The next best price I could find online was $12.98 @ ToysRUs.ca. Here is one of the customer reviews for this Aqua Dragon Kit from Walmart.ca:
This Aqua Dragon Underworld Kit was very easy to set up and care for. My Aqua Dragons lasted 4 months! Great little pets or an even better science project. These Aqua Dragons are fun for all ages!
While this offer is available online at Walmart.ca only, you won't be complaining. Walmart Canada offers free shipping on all purchases - big and small. Order your Aqua Dragons kit now and you will receive it within a few days.
(Expiry: Unknown)