George Women's Bathrobe Was $25 | Now $8 @ Walmart.ca (EXPIRED)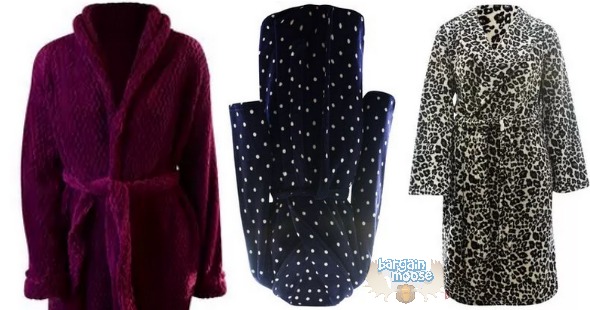 Pamper yourself a little bit with a brand new bathrobe. Walmart.ca currently has their George' Women's Bathrobes on sale from $19 or $25 down to just $8. There are 7 different robes to choose from, so you should be able to find one you like. There are a few different shipping options available.
The George Women's Bathrobe comes in two different versions. They are both on sale for $8 right now, but one was regular $19 and the other was regular $25. The George Women's Printed Bathrobe has four different adorable prints to choose from. I am a leopard print fanatic, so I would definitely throw the Animal Print Bathrobe in my Walmart.ca shopping cart. This robe is available in sizes small and extra large but they are quite roomy. The other robe available is the George Women's Bathrobe. This robe was the more expensive version at regular price. This robe comes in white, blue, pink and purple and looks to be a bit warmer than the previous mentioned bathrobe. The lowest price I have seen on these robes so far is $13, so snag it at $8 while you can.
Reviews say that these George Women's Bathrobes are so soft and comfortable to wear. They also state that you will be impressed with the quality. The George Women's Bathrobe will come down to about knee level, which means you can even wear them around the house. I would probably set myself up with a classic movie like Burlesque, a bottle of wine and my bathrobe. I may be so relaxed that I fall asleep. What about you? You will also want to make sure that you wash your bathrobe before wearing it. Otherwise you may end up covered in tiny colourful fibers from the material.
Moosers that reside in Toronto can always opt for the Grab & Go option, which will ship your purchase to a locker inside your closest Walmart Canada location for free. If you are not a Toronto resident, then you may want to have your purchase shipped to a Canada Post location, which is also free. Otherwise you will have to pay $50 or more to get shipping to your home included from Walmart.ca. I live within the region of the Grab & Go boxes but have not used them yet, maybe now that they imposed a minimum spend for free shipping I will.
(Expiry: Unknown)