(EXPIRED) Fisher-Price Animal Friends Learning Table - English & French Edition was $30 now $8 @ Walmart.ca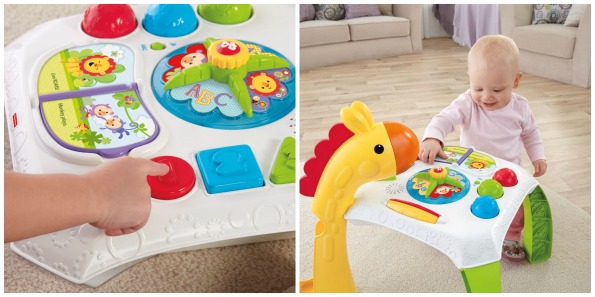 *SOLD OUT*
All parents say the same thing: their kids grow up too fast. Is it already time for your young one to start playing with big kid toys? Learning tables seem to be parent's favorite transition toy, and Walmart has a great deal on one of them at the moment. The Fisher-Price Animal Friends Learning Table, pictured above, was originally $30 and is now down to $8. That's a nice 73% off discount on an item that is already reasonably priced! That's my kind of deal.
This is an amazing toy for your growing child. At first, the legs of the table come off allowing your child to play with the activities on the table top while sitting down. As your child grows and learns to walk, you can put the legs back on to the table so that your child can play while standing up. It's a great way to encourage babies to walk! Tables like these motivates your little one to keep standing up, giving him or her an incentive to walk around the table while holding on to it for balance.
This little table has quite a few learning features. It introduces, numbers, ABCs, words and colors. The colored buttons light up and there is also bilingual music for babies to sing along to! The table even has a physical component with its Giraffe chute in which balls can go down. I imagine babies will have lot of fun chasing the balls down the chute over and over again.
Being bilingual myself, I think any toy that teaches more than one language is very beneficial for kids. Some of you may even speak french at home, and I know french toys are so much more expensive so deals like these are really worth it. Even if you don't speak a second language, your child just might! Who knows, he or she might take an interest and learn it in school or through a friend.
I've tried to do a price comparison for this Learning Table, and I couldn't find any real competitive prices. Walmart's pricing blows Amazon's price out of the water. It's not much of a competition since Amazon prices this same item at $90 through a vendor in the States.
Walmart offers free shipping on orders over $50, but if you're just looking to purchase this item, you can always get it shipped to you local Canada Post Office for free. Unfortunately, the Grab & Go shipping option isn't available with this toy.
(Expiry: Unknown)