50% Off KitchenAid 5-Piece Kitchen Gadget Set - Now $20 @ Sears.ca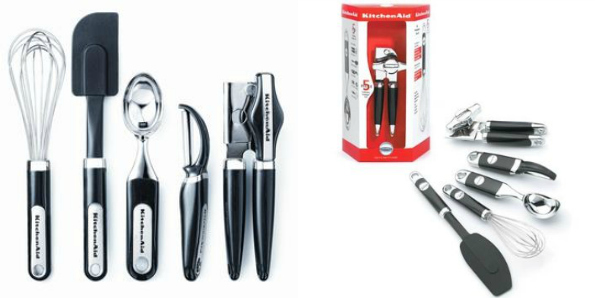 I LOVE KitchenAid brand appliances and utensils too! Therefore, I was quite pleased to see this KitchenAid 5-Piece Kitchen Gadget set on sale from $39.99 down to $19.99. Receive free shipping to your local Sears Canada store or outlet location - there are 1300 across Canada.
This set includes the following five gadgets:
Whisk
Spatula
Ice Cream Scoop
Can Opener
Euro Peeler
All five pieces feature comfort-grip handles and they are all dishwasher safe (except for the can opener). These are some basic but highly used utensils in a household.
The stainless steel wire whisk can be used for making soups, broths, batter, and more. I use my whisk several times a week and even more if I am baking. The peeler has the vertical blade instead of the horizontal blade. While I prefer horizontal, it really depends on the quality of the blade. A good quality blade will peel almost anything (though squash is quite the challenge). I use my peeler pretty much every week.
Spatulas may just be my favourite utensil. It is my go-to utensil for stirring and any amount of cooking requires stirring. Some people use spoons but I prefer the spatula as it can scrape down the sides without leaving residue. This spatula is also heat resistant to 500°F making it a great accessory for cooking with hot pans.
My least-used gadget would probably be the ice cream scoop. I do not have ice cream that often though I do re-purpose the scoop. I have used mine to scoop out melons and to scoop out the inside of squash as well. Also, you can make super nice looking rice half-spheres when you use an ice cream scoop. They look decorative.
One reviewer said:
Safe and easy to use can opener. Mixing tools are perfect for my needs as I prepare food mostly for myself. This collection is a valuable addition for my cooking skills; as well I have never had a complete set such as this before.
Now, this pack just has amazing value. I compiled a cost list for each item if you were to purchase it individually:
Peeler - $8.99
Can Opener - $19.99
Utility Whisk - $12.99
Spatula - $7.97
Ice Cream Scoop - $9.97
This is an approximate as sometimes I couldn't find the exact design but I could find something similar or in a different colour. Either way, the value of this set is more around $50 so you are scoring quite a nice deal.
(Expiry: 13th January 2016)