Lego Minifigures have been around for decades, but that doesn't mean they've shown any signs of slowing down! These guys and gals are popular among kids and adults alike, and with all the different collections available, it's no surprise why. These cool collectibles are based around movies, sports, fiction, history, or just every day life.
If you know someone who loves Lego minifigures, you're going to want to read on. We're highlighting where to get them, tips to deduce which minifigure is in a mystery pack, as well as sharing insights on what might be in the series 18 new releases!

Where to Buy Lego Minifigures

You can find the most recent collections of Lego minifigures in stores, which include Series 17, The Lego Batman Movie, and The Lego Batman Movie Series 2. Each mystery package comes with one character, one or more accessories, a display plate and a collector's leaflet.

Unfortunately, minifigures rarely go on sale, however some retailers offer blanket sales that cover them. For example, 15% off weekends at Chapters, or 20% off Lego at Toys R Us. If you see minifigures being a staple on your shopping lists, this is definitely the most economical way to stock up.
The Lego Batman Series 2
The newest Lego minifigures series, The Lego Batman Series 2, was just released in January. Like the previous Batman collection, this one comes with 20 limited edition minifigures. Lego fans are loving this series more than its predecessor since it has more of the main characters of the film. This set includes Swimsuit Batman, Vacation Robin, Vacation The Joker, Disco Harley Quinn, Vacation Alfred Pennyworth, Vacation Batgirl, Clock King, Mermaid Batman and more!
After comparing prices, we've found Chapters to have the best deal on this series.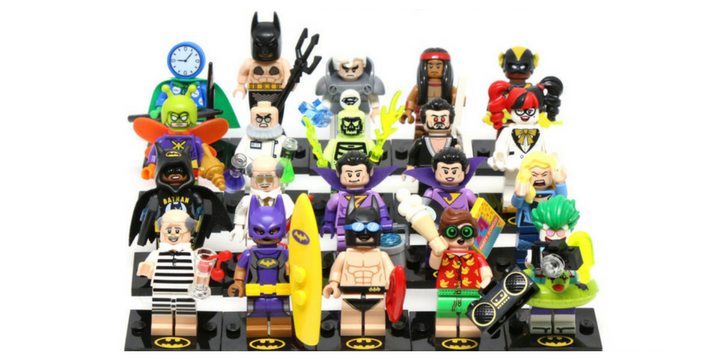 Series 17
There are 16 characters to collect in Series 17, and they include Hot Dog Vendor, Elf Maiden, Butterfly Girl, Circus Strongman, Veterinarian, Battle Dwarf, Dance Instructor, Gourmet Chef, Connoisseur, Corn Cob Guy, Roman Gladiator, Rocket Boy, Pro Surfer, Retro Space Hero and the Yuppie, plus a mystery character. And since each minifigure comes in a sealed "mystery" bag, there is a lot of anticipation and fun in each package.
We've found Walmart.ca to offer the best price for this series.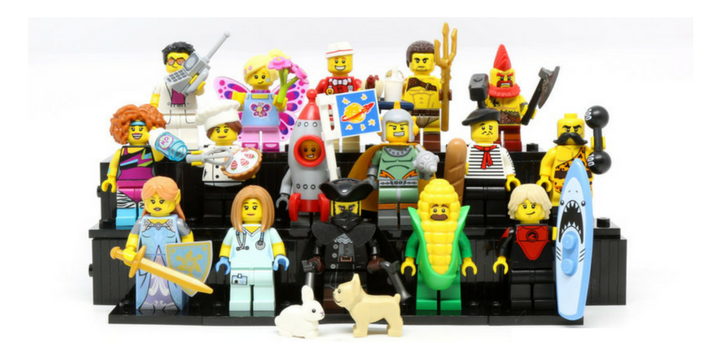 The Lego Batman Movie
This series comes with 20 limited edition minifigures including Lobster-Lovin' Batman, The Eraser, Zodiac Master, King Tut, Pink Power Batgirl, and more! The kids will have a blast recreating their favourite scenes and action-packed adventures with this set.
Toys R Us Canada has the best price on this set.

Sneak Peak, Series 18
Can't wait for the launch of Series 18? Neither can we! I've been looking around for glimpses into what this series will look like, and it seems as though they will all be part of a costume-themed party set in order to commemorate the 40th anniversary of Lego minifigures.
Rumour has it these characters will include Red Suit Brick Guy, Blue Suit Brick Girl, Orange Balloon LEGO fan boy, and Cowboy Suit Guy.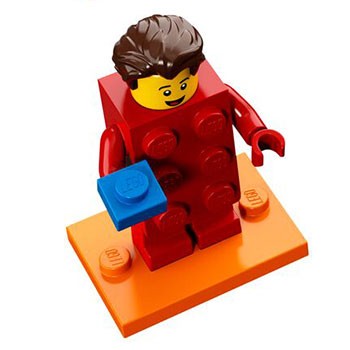 How to Complete a Minifigure Set

While these mystery packs offer fun, excitement and intrigue, they can also give you duplicates, triplicates, or more. If you've got a little one who's on a mission to acquire a complete set, here are our suggestions.
Consult an online guide as to how each minifigure might feel inside the package. Since each minifigure comes with their own unique look and accessories, you can try to determine which pieces are inside the pack.
Purchase an unopened box of minifigures. Each box contains 60 mystery packs and is guaranteed to come with a complete set. You can keep the minifigures you want and sell the rest.
Purchase the figures you want or need online, however, this way is often more expensive. But be sure to purchase ones that say "complete set" minifigure otherwise you may not get the accessories.
Many collectors say there is a dot matrix on the bottom of each bag that can help you identify the figure, but this has also been deemed the least accurate method.

Of course, identifying which minifigure is in each package by feel can be problematic if you are buying online. If you're going to go this route, we suggest buying more packages than you need from a retailer with an excellent return policy.

Let us know if you have any other tips or tricks for finishing off a set. We would love to hear from you in the comments below or on our Facebook page!