Being away from your loved ones can be tough, but WestJet is working on a new device that can help make those long trips a little easier on families. The WestJet Flight Light is a connected night light that uses live flight data to project a plane's path right in your child's bedroom – so no matter where in the world you're flying, they can track exactly where you are and how soon you're coming home.
I saw an ad for this Flight Light pop up on YouTube a couple days ago and honestly thought it was a joke at first. There's no way this could be a real product, right? I decided to check out WestJet's website, and while this isn't a real product you can buy yet, it truly is in the works. WestJet has developed a prototype Flight Light (which is what you see in these photos), and they plan to run beta-tests this summer.
My husband is travels for work fairly often, and I know how much our nieces and nephews miss him when he's gone. With the Flight Light, they should be able to see where he is every single time he boards a WestJet flight – which might make business trips a bit easier to bear. This is how WestJet put it:
Kids spend their time counting down the days, hours, even minutes until their parents return. The WestJet Flight Light makes the wait a little bit easier. There's always been a magic to looking up at an aircraft in the sky and wondering where it's going. By connecting to live flight data, the Flight Light brings the magic of flying into a child's bedroom and keeps travelling parents close to their families.
WestJet's website describes the Flight Light as "a nightlight that uses live flight data to project a WestJet flight path onto a child's bedroom ceiling." It's modelled after the immersive and interactive Boeing 787 Dreamliner aircraft, and, eventually, the finished product might look something like this: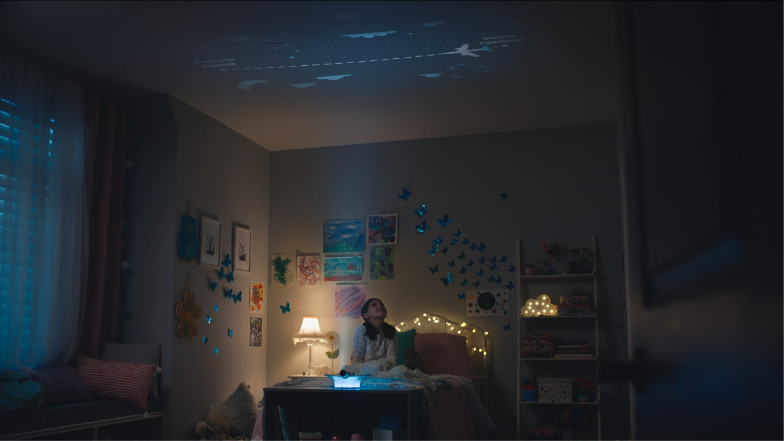 Still have a few questions? The WestJet Flight Light is still in development, but we can already answer some of the big Qs. WestJet will provide updates throughout their beta-tests and research, so we'll let you know whenever we hear something new! In the meantime, here's what we can say so far.
---
What is the WestJet Flight Light?
In a nutshell, the WestJet Flight Light is a probably the coolest night light I've ever seen. It (1) looks like an airplane, which would already be fun enough, but (2) it can project WestJet flight paths onto your child's bedroom walls or ceiling. So whenever you're on a trip and away from home, they can see exactly where in the air you are. So I can't say how much sleep the kids will get, but at least they'll know when you're coming home!
How will the WestJet Flight Light work?
Once you have the device, setup and use seem pretty straightforward. WestJet will eventually have a Flight Light app available for download. Before you leave on a trip, make sure you sync this app to the physical Flight Light. Then, prior to takeoff, enter your WestJet flight number into the app. Once your flight takes off, the light will turn on and follow the plane until it lands. When you're safely on the ground, the light will pulse to let anyone watching know that you've arrived. And when you're not travelling, it works as a regular night light, too.
But the Flight Light doesn't stop at just projecting a plane's flight path. It will also create starlight patterns at the same time – and if you're connected to the device via the Flight Light app, you can even send messages and emojis from your seat on the plane that will be projected onto the ceiling, too!
Where can you buy a WestJet Flight Light?
The Flight Light is still in development, so they're not available for sale – yet. I scoured the WestJet site trying to find out any info about where or when we might be able to try these for ourselves with no luck. However, they do mention that you can learn more about the Flight Light by signing up for the WestJet Rewards program. They are running beta-tests over the summer, so maybe lucky members will get to test them out?
Sign up for our newsletter
Never miss a deal from Bargainmoose with our daily newsletter