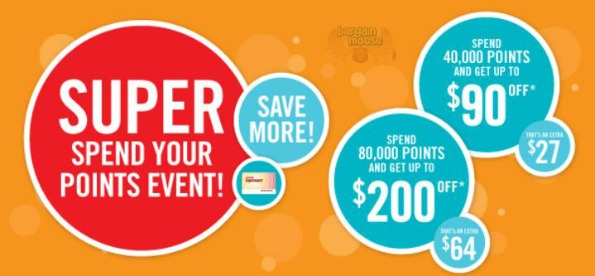 It is that wonderful time again when Shoppers Drug Mart adds bonuses to their redemption levels and has a Bonus Redemption Weekend!  Can you tell I am excited?!  This weekend only, on June 9th and 10th, get $90 of items when you redeem 40,000 points ( a bonus of $27) and $200 of items when you redeem 80,000 points (a bonus of $64). All other redemption levels will remain the same.
Here is the fine print for this event:
Taxes are payable on the full purchase price prior to the application of the discount reward. Offer is a reduction off your total pre-tax purchase price of products eligible for point redemption. Points are not redeemable for cash or credit. All other reward levels remain in effect during this promotion. Offer excludes prescription purchases, products with codeine, non-pointable items, tobacco products (where applicable), stamps, passport photos, lottery tickets, event tickets, transit tickets and passes, gift cards, prepaid phone cards, prepaid card products and Shoppers Home Health Care locations.
Anna shared a guest Shoppers Drug Mart post earlier as to how to optimize your points with your Optimum card.  I am going to let you know a couple of tricks you can use to optimize your redemptions as well.
Wait for the top 2 levels of redemption: It can take a while to get to the top 2 levels of redemption but waiting until your points reach that mark is key.  They almost never have a bonus redemption with anything but the 2 top levels of redemption amounts.  That means if you cash out your rewards every time you hit the $10 or $30 mark, you will only save that amount of money. If you can wait until you hit the highest 2 levels (shown on the back of your receipt or online), then every couple of months they will do a bonus redemption and make the value back much higher.  This means that you will get more free groceries/items for your points.
Use Coupons: I make sure to check the Shoppers Drug Mart flyer for sales and match any printable grocery coupons I have to those sales.  Since the coupons are treated like money and taken off your total, you will be able to get more for your points.  For example, say a tube of tooth paste is price at $2 and you have a $1 coupon for it, that means if you are redeeming $90 instead of that item being $2 of your $90 it will just be $1.  Using coupons on redemption days is a must for me.  The last redemption I did, I used about $35 in coupons meaning instead of $200 free items I really got $235! It pays to use coupons!
Shop early or very late: Since the Redemption days are only 2 days each time, popular sale items go very fast (especially if there is a coupon to go with the item).  I try to shop either as early as possible (so I know that the item I am looking for will be there) or late at night( because at the 24 hour locations the items will be restocked late).
Be Patient: This is an important thing to remember.  Since Shoppers Drug Mart puts out a redemption day every couple of months, you don't have to redeem every time even if you have the points just to do it.  If you don't really need items, don't get something just to get it.  Next redemption you can get more.  You can do up to 2 redemptions each day (equaling $200 each).  Or for the past couple of years in December, Shoppers Drug Mart has held a mega bonus redemption where the up the values to $100 or $250!  You can also get the 2 redemptions with this as well totaling $500 each day.  I like to save up points so I know I will have them then because it falls before Christmas and I get Christmas gifts there.  They have everything from perfume and baby toys to electronics and items for parties.  If you are patient you will reap even more rewards.
Any way you look at it, getting free groceries/items is great.  I will be first in line Saturday morning to stock up on my favorites for summer (I noticed some fun summer items last time I was there) and getting a few treats for myself!
(Expiry: 10th June 2012)