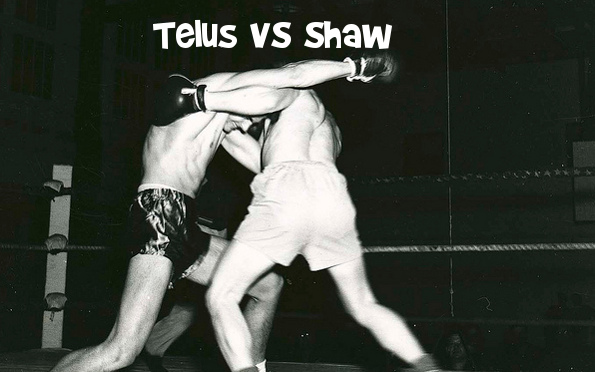 The two main players in the market for high speed internet in western Canada are Shaw and Telus. They both offer different kinds of deals, but try to somewhat align with each other so they don't compete. However, when you break down the numbers and take a closer look the competition couldn't be any more fierce.
Telus like to structure their deals based on contracts. They like to persuade their customers to take 3-year deals by giving big discounts and "freebies" such as laptops and TVs. However, they are often prepared to offer 1 or 2 year deals, so do your research and be prepared to ignore the freebies. Unfortunately, the new wireless legislation doesn't seem to have affected the internet service providers and they are still able to offer and make you stick to a 3-year contract.
Shaw's strategy is to give the customer freedom and flexibility. They offer month-to-month contracts with the option to leave whenever you are dissatisfied. I always think this shows confidence in a company's service, when they offer this kind of deal. I have signed many a contract and then been dissatisfied after a few months, only to be locked-in and have no bargaining power.
Always Negotiate!
With only two companies in the market, you can always play on this to get the best deal. Shaw knows if you don't choose them you will be choosing their nearest rival instead and vice versa!
I recently called Shaw after Telus had offered me one of their packages. I was paying $55 with Shaw as my deal for three months at $30 had run out. Telus offered me their Internet 15 package (150 GB usage for $30 a month), which was pretty much the same usage allowance I was getting with Shaw. After six months, the price would move up to $50 a month, which was still cheaper than the $55 I currently had to pay at Shaw. I wasn't sure that Shaw would make me an offer, as although my current offer had run out, I still hadn't paid the latest bill of $55 + tax. He put me on hold for a few minutes, but came back offering me six months at $30. I was only expecting a three-month deal, so I snapped it up. A quick 10 minute conversation saved me $25 a month or $150 over the six months.
Comparison
Comparing the two providers over a three-year duration is the easiest way to show you how much you would be losing if you didn't negotiate a better deal.
Shaw
Shaw 20, in my opinion, is the optimal internet package with Shaw. It has good download speeds and a good enough download limit for the majority. Although, this really depends on your usage as it offers 200 GB of data. If you opt for Shaw 10, it offers only 125 GB of data for $5 less per month (after any offers have expired), but with lower download speeds.
The cost of Shaw 20 is $55 a month with the first month being $30 + tax.
Total cost over 3 years (incl one discounted month) = $1,955 + tax
Telus
Telus 15 would be their optimal package. Offering a little less data at 150 GB, this should still be more than adequate for the average user. I tend to use around 130 GB a month and still watch a lot of movies and download quite a bit of data.
Not sure how much data you will use in a month? Use the Telus Data calculator (http://mobility.telus.com/en/AB/mobile_internet_guide/data_calculator.shtml).
Telus 15 costs $30 per month for the first 6 months and then moves up to $55 a month after that.
Total cost over 3 years (incl 6 months discounted) = $1,680 + tax
The Verdict
You can see from the standard pricing that on the standard contract over 3 years, Telus comes in considerably cheaper ($275 saved to be precise). However, with Telus you are locked into a 3-year deal meaning you can't negotiate at any point once you have signed the contract. By the time my current deal runs out I will have had nine months with Shaw at $30, and I firmly believe I will be able to negotiate another deal at this point that could be cheaper than the $55 standard price.
This doesn't mean you can't negotiate a better deal with Telus. A 3-year contract may be scary, but at the right price, Telus can work out a great deal for you and you might even get a free TV thrown in there too (if that is your thing)!
The moral of this story is ALWAYS negotiate, and whether you prefer Telus or Shaw there's always a better deal to be had than what's on the website. These two companies are in a battle for your business and the right negotiating skills can save you a large amount of money and maybe even get you a couple of freebies along the way!
I always say that one day I will leave Shaw and go to Telus, but every time I try to leave, they offer me a better deal on a month-to-month contract, making it almost impossible to refuse! No freebies for me, but I must say I have been very happy with Shaw so far.
Photo Credit: CT State Library