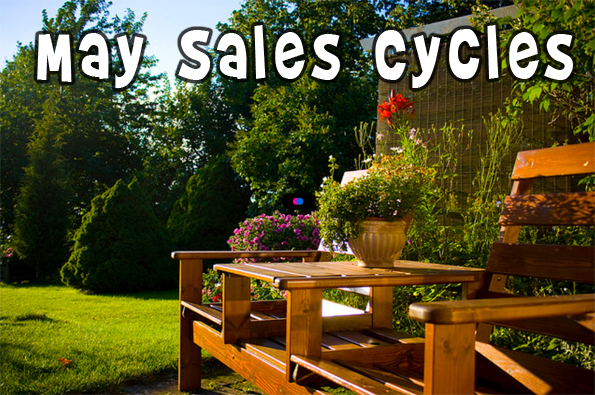 We are already into the month of May and summer is fast approaching.  With lots of holidays in May there are lots of sales and deals. We try to post all the awesome deals on our blog but there are always some great coupon codes in our coupon forum added daily as well as some awesome deals on the hot deals forum for you to take advantage of.
This month has four major events that the sales seem to follow.  In the month of May, we have Mother's Day, Cinco de Mayo, Victoria Day, and the start of camping season.  Most of the great sales will revolve around at least one of these events.
Seasonal Clothes: Summer clothing is already hitting the shelves and stores are giving a once last effort to get rid of the last year's stock.  This is probably the last time you will see last year's clothing on sale for rock bottom prices. This also means that the winter clothing and footwear needs to be out of the stores and will be discounted hugely. Places like Bootleggers and Reitmans will have discounts on clothing already on sale.
Jewellery: This is a no-brainer with Mother's Day in the month of May. What mother wouldn't want jewellery for Mother's Day and the stores know it.  For that reason they have great sales on all sorts of jewellery that mom would love.  Check out this Mother's Day coupon code that Anna posted and many other jewellery deals on the bargainmoose blog.
Photo Items: These items also go on sale by the masses in the month of May because of Mother's Day.  You will find deals on photo books, pictures, freebies and more all to celebrate Mother's Day. Take advantage of these deals and make some photo albums or get those pictures off of you digital camera and computer and finally print them off.  And of course, moms love anything that is sentimental like a photo gift.
Outdoor and Gardening: This is the time of year that the flowers start blooming and people are getting outside to do some gardening.  You will find a lot of deals on patio furniture, flowers, any anything related to home and garden.  Patio furniture is something to get this month because with a lot of stores, once they sell out they will not get new stock in.  It is a big bulky item to keep at the store so they usually don't over stock it.  You will find by the end of June, it will most likely be gone or you will have a very limited selection. As for gardening, most places will have sales on their out door plants and flowers for B1G1 Free and you will see a lot of printable coupons in inserts.  You might be tempted to get a new BBQ because they will start going on sale, but the best month for that will be next month because of Father's Day.
Beauty Products: These items go on sale thanks to Mother's Day as well.  Places like The Body Shop Canada and Well.ca will have some really good deals on in hopes that you will get your Mother's Day gifts at their stores.  I like to take advantage of these deals and stock up on my favorites while they are at the lowest prices.
These are a few different deals for sale cycles that you will be able to find in the month of May. Let us know if you know of some more!
(Thanks to Combust for the image!)