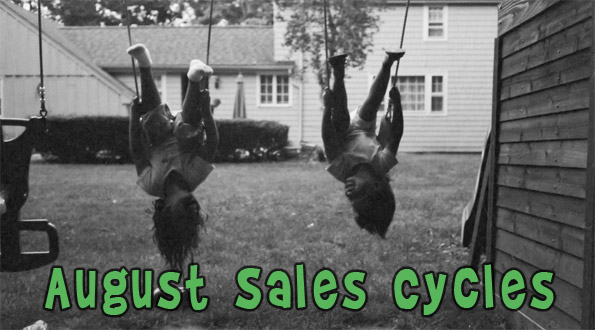 Sorry that this one is a week late guys, but better late then never I always say!  Time has been just flying so fast this year that it's hard to believe that summer is half over, and we are already into the month of August.
Computers- I had mentioned last month that computers are starting to go on sale because kids are heading back to school.  Closer to the end of August will be a great time to buy a new or refurbished computer.  If you are in the market for a new computer this year for either yourself or one of your kids, make sure to check out Eddie's post on how to save on your next purchase.
Clothing- Summer clothing is starting to go on sale because all of the new fall lines will be heading into stores soon.  You will start finding some great deals over the next few months on bathing suits, sandals, shorts and tanks.
Supplies- Since most people have already stocked up on their bug repellents and sunscreens, this is the time when stores are trying to liquidate whatever supplies they have left.  Many of these products have a long shelf life, so you can actually buy some bug spray and sunscreen for next year.  Please make sure to double check those expiry dates though, because buying something that will expire before you use it is not only a waste of money but can be dangerous as well.
Camping- Since camping season ends for most provinces in the month of September, many stores are pushing out their camping supplies at awesome prices.  This includes tents, sleeping bags and even trailers.  Most people won't buy a camper at the end of the season because they don't want to store it for the winter without using it a few times first.  If you have somewhere to store it, get one now.  You will save a boatload of cash both at dealers and on places like kijiji and craigslist.
Outdoor Play- This is the perfect time to get that play set for the back yard you have been eying for your kids.  Stores are trying to get rid of larger items such as play sets, pools, trampolines and other outdoor fun kids items to make room for new fall stock.
These are a few different deals for sale cycles that you will be able to find in the month of August. Let us know if you find some more!
(Thanks to dwarrenku for the image!)