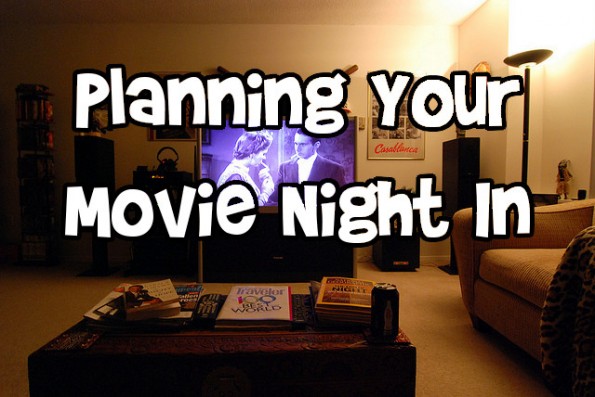 Entertainment doesn't have to be expensive. Sure, a night out at the movies can always be fun, but by the time you purchase some popcorn, drinks, and maybe even some snacks, things can get pricey - especially if you're not going on a cheap night! When you factor in the price of the movie tickets, along with the "standard" inflated movie theatre prices for your snacks and drinks, you may be looking at a total bill of approximately $50 to $60 - and that's not including the dinner you may have had before the movie!
When you typically think of having your movie night in the comfort of your own home, you may not see it as a special venue, but it can be - it's all in how you stage your movie night in. In this article, we're going to look at some of the ways that you can have a nice, relaxing, AND affordable movie night at your place!
First of all, what you'll need to remember is to try and make it a big deal, instead of making it seem like something that's just a normal part of your day. I'm not saying that you and your significant other need to style your hair or put makeup on before you sit in your own living room, but it helps to be prepared for your movie night in.
I've included a list of useful tips that can help you have a fun, relaxing movie night in the comfort of your own home.
Plan your movie night in ahead of time. Schedule a specific time that would be most convenient for both of your schedules, and stick to it.
If you usually watch movies in your living room, your set up may include several couches and/or chairs. Try to sit together on the same piece of furniture instead of sprawling out on separate sofas. After all, you'll want to replicate the movie experience!
Pick up some snacks or delicious food that can help you replicate the movie theatre experience! The best part about this is when you see your grocery bill - especially when you're used to paying those inflated theatre prices! Just take a look at these food and drink combos on the Cineplex website, and think about how much you'd be saving by purchasing popcorn, pop, and candy elsewhere!
Before you splurge on a new DVD or Blu-Ray movie, check out your collection and see if there are any movies that you haven't watched yet. I'm guilty of picking up new movies often when I should be watching the ones that I own that I still haven't seen yet, so I plan to practice what I preach. For realsies.
Another great option if you have a Blu-Ray player, laptop, Apple TV, video game system, or smart box connected to your TV is Netflix. There are literally hundreds of movies available on Netflix, and you'll always have plenty of interesting ones to choose from. Best of all, it only costs $7.99 a month to get access to a myriad of popular and not-so-popular movies and TV series.
Turn off the lights, and keep your cell phones away from the room where you're watching the movie. You've done a lot to plan this relaxing movie night in, so what's the point in getting distracted by your phone? If you're used to checking work related emails on a regular basis, take this much-needed break and enjoy the movie.
A movie night in will only be special if you allow it to be. If you follow these tips, you may really enjoy your affordable movie nights in your home! It's cheap, it's fun, and you can have them several nights a week! Plus, you'll have a great excuse to watch a bunch of older movies that you've always wanted to see but just couldn't find the time to watch before. You just can't go wrong with a nice movie night in.
Do you have any tips or ideas that you'd like to share about your movie nights in the comfort of your own home? If so, feel free to share them below!
Photo credit: Kevin Harber