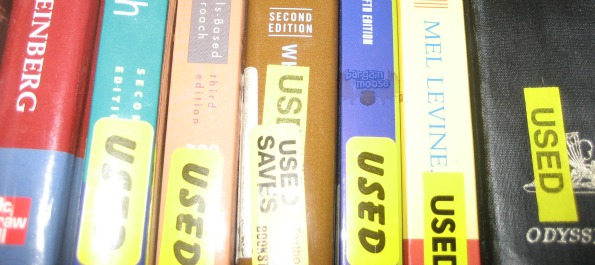 You can rent textbooks, you can buy textbooks. That is pretty much your two options. I see a LOT of students every year paying full price for their textbooks in the University Bookstore, when a little work on the computer, a credit card, and a few hours would be sufficient to get them massive discounts.
Here is a list of non-traditional places to buy textbooks, and some coupons to help out:
Buy new and used textbooks. Used often costs less, but shipping is a flat $6.49 per used book. Coupons won't work on used textbooks.
Coupon Code: AUG2012
Discount: $5 off $30
Expiry: 31st, August 2012
Excellent place to buy textbooks, and the marketplace sellers can give you a great price on used and new textbooks as well.
Free shipping worldwide, for every book bought they donate a book, and good prices too. I bought two of my textbooks through them this year.
Coupon Code: BOOKS4GOOD
Discount: 10% off 2 or more used books
Expiry: Unknown
If any website is going to have your book, Alibris will. It works sorta like the Amazon marketplace with many sellers listed within it. You can search for books and buy from Alibris, or you can note the name of the seller and try to find out if it is cheaper through their own store (if they have one). Alibris has a plethora of coupons usually, here is just one:
Coupon Code: VOYAGE
Discount: $3 off $30
Expiry: Unknown
Also one of the giants, though I have never ordered from this one. They have a ton of used textbooks and are a great resource.
Free shipping worldwide. I personally have not ordered through them before, but I have relatives in Canada who have.
UK based place, good for comparisons and you might score yourself a deal. Free shipping to Canada on orders of 2 books or more.
Go to your local Kijiji and shop. I have bought many a used textbook off of Kijiji, usually I can get decent prices, but do price compare because sometimes students are asking almost full price.
---
I hope this gives you a brief run down on what options are out there for buying textbooks. Usually it is far cheaper to buy your textbooks from these websites than your University's bookstore.
Do note: Some of these are US websites, or UK websites. Customs/duty may apply. I would say 1 out of every 4 orders for textbooks I make from out of the country gets a duty charge. The money I save goes well above and beyond that, so I don't mind.
I pretty much take a morning (usually the 1st of August) off and open many, many browser windows on my computer. I spend my time price comparing textbooks across all of these websites, and the textbook rental websites. I will be doing a post really soon on textbook rental websites, so keep your eyes peeled! I will tell you how much I spent on textbooks for a full 5 course semester!
Moosers, do you know of any good places to buy textbooks?