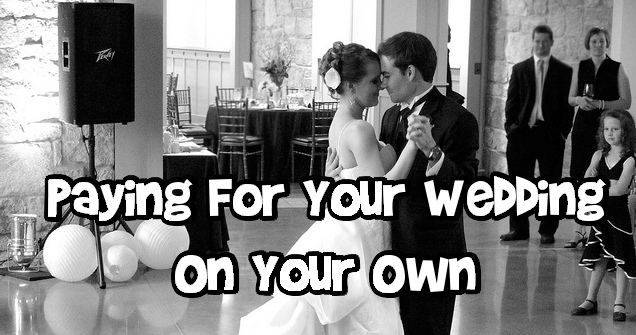 Weddings can be ridiculously expensive, as everyone well knows. If you are getting married in the future, congratulations. If you are paying for the wedding yourself, don't fret, you can do it. I've been married twice (second time's a charm ;) ) and paid for both weddings on my own with a little bit of help from parents. My first wedding was a large affair, a backyard ceremony with a full dinner and dance afterward. My second wedding was a shotgun wedding in the Caribbean with just the groom and two close friends. Both weddings had their appeal, both cost more money than they needed to. Whether you are getting married in Canada or abroad, I'll give you tips on how to save on your wedding day and do it all on your own.
Set Priorities
Although brides seem to typically control most aspects of a wedding, don't forget about your partner in life, who probably wants some input about their special day too. Sit down together and talk about what is important for both of you. The first time I got married, I felt like I needed a large wedding with everyone I ever knew there, and I had to have a sit down dinner, full bar and fancy cake. While it was a very lovely experience, I realized the second time around that getting married is about the marriage, not the party, so I basically eloped. I did want the special ceremony and to wear a beautiful dress for my husband, so I splurged on those two things. He wanted a fun getaway somewhere hot in January, so we did that too. If you want the most gorgeous dress anyone has ever seen, splurge on that. If you don't care if everyone gets drunk (and prefer they didn't), save by having a pay bar. Dummies.com has tips on making a priority list for your wedding and how to compare it to your future spouse's list.
Make a Budget
A budget for a wedding is just as important as having one for your day-to-day life. You don't want to overspend, so you need to figure out how much money you have, then allot it to each aspect of the wedding. Since you've figured out your priorities, your largest amounts to be spent will be on the first priorities and will go down from there. If you have to scratch off certain items, don't be afraid to do that. One tip: don't count on money coming in as gifts to pay for your wedding. You may overestimate and then be stuck with bills after the wedding is over. Think of the gifts as a way to spend on your life together after the wedding, not to pay off something that has already happened. Real Simple has an awesome printable worksheet that you can use to budget.
Saving on the Ceremony
Considering this is the part where you get married, the ceremony should be at the top of your list, but maybe it isn't. You can save money here without even trying. If you always had a certain spot in mind for your wedding, then you should definitely get married there. If you are easy and open-minded, consider places to get married that are free and maybe already have a beautiful view, so you don't need extra decorations. This could include someone's backyard, a beach, a park that doesn't have rental fees and more. The trick here might be to only invite very close guests to keep it small and make it easier without having a crowd. Another option might be to get married where you are holding your reception, as there isn't always an extra cost for that.
Doing it Yourself
You should figure out what you can do yourself, or get someone else to do for you, maybe even as a wedding gift. If you have a friend who makes fabulous cakes, ask her if she can make your wedding cake as a gift to you in lieu of anything else. While you should never expect any gift, this might make your friend feel special for having the privilege, but could possibly save her/him money too. If you wanted to make it yourself, taking a course at Michaels is very inexpensive and you can get baking items cheaply if you do your research. At my first wedding I was very particular about what kind of flowers I wanted. I had a friend who was a floral designer and asked her to do my flowers for me. I was able to purchase the actual flowers very affordably at a floral greenhouse and she put them together for me as a gift. At my second wedding, the flowers were still important, especially since I was on a Caribbean island with some of the most beautiful flowers I've ever seen. I had an all-inclusive wedding package, but opted to spend extra on orchids. Decorations are one thing I'd say you could definitely make yourself. If you have beautiful flowers already, you shouldn't need too many decorations. As always, I submit to Pinterest and have boards and boards full of DIY wedding decorations.
Getting Away
When my husband I got married, we chose Sandals as the resort of choice because they had free wedding included with your stay. This means we paid for our wedding by paying for our honeymoon. It included everything I needed to get married, although I had to pay extra to get my hair done and for the ultimate photography package, but it was all worth it. The prices for both were far less than I would have paid here for those things. If you are just getting away after getting married here and have a limited budget, consider staying in Canada to save on the cost of your passport. There are some really nice places to visit in Canada that would be romantic enough for a honeymoon. Canadian Living has a great article on five affordable honeymoon destinations. Since taking a honeymoon is an indulgence that people with a limited budget might have to forgo, consider asking for this as a wedding gift from your guests. I know someone who registered their honeymoon so guests could buy them special trips while away or put money towards their vacation. Honeymoon Wishes is a full service honeymoon registry that is just really fun to browse.
Looking Good
This is your wedding, you have to look good. Looking good can get expensive. At my first wedding I spent over $1500 on a gorgeous dress that I ordered, which in the end was too big on me as I had worked out hard and lost weight before the wedding. I spent the whole night pulling it up. The moral of that story is that no matter what you spend, make sure your alterations are done by a professional and get recommendations instead of just walking in somewhere like I did. At my second wedding, I went to a bridal store and picked something off the rack that I knew my husband would love. It was a simple but elegant dress that I wanted to wear at my 25th wedding anniversary. See, the frugal me wanted a dress that could do double duty. I spent less than $400 on this dress. You can even get dresses cheaper than this, especially if you want a simple white dress. For example, I found this simple and sexy dress at Guess by Marciano, which would do perfectly for the bride who wants to cut with tradition. It is only $150 and I'm sure there are coupons you could use as well. Of course, you can find longer dresses and less skin-showing dresses at many different stores.
Again, you'll have to figure out what is important to you to spend your money on. I don't think pedicures are always worth it, so I painted my own toe nails. I do think a manicure is important as there might be a load of photos of your hands and your rings. For my hair, I had a friend do it for me, and she did a fabulous job. There are some very simple up-dos you can do yourself that look gorgeous. One word of advice: bobbypins. Bring extra with you and have your Maid of Honour hold them for you and check your hair often. At my first wedding, I had a friend who is a makeup artist do my wedding as a gift. At my second wedding, I did it myself as I know my face best and can do the type of look I want. The only issue I had was too much oily foundation as I was down south and my forehead has a nice gleam in all my photos.
Bargainmoosers, did you pay for your wedding yourself and if so, how did you do it?
(Photo credit: Timoni West)